Broadcast News
12/06/2017
The Media Production Show Returns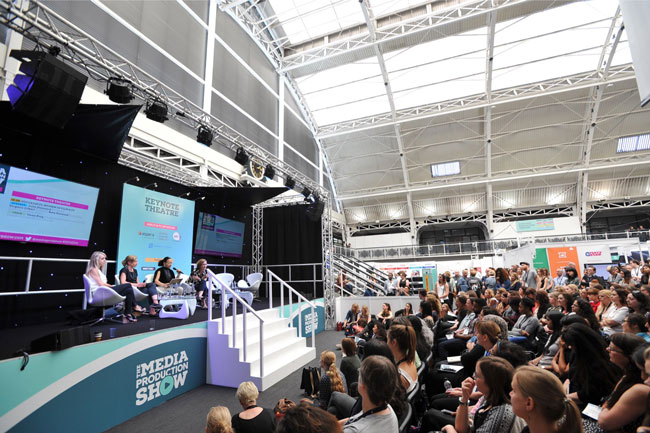 Following a successful inaugural event in 2016, The Media Production Show is set to return to London for the second consecutive year – albeit in a new venue. This time around, the two-day show – 13 and 14 June – has moved to Olympia and will provide even more opportunities for visitors and exhibitors alike to meet, network and share their industry insight.
Axon (Stand 546)
will highlight AzilPix Studio.One, a virtual camera system for live video capture and streaming. Studio.One employs cost-effective, ultra-high resolution cameras with wide angle and/or fish eye lenses to capture every aspect of a live event from multiple angles. The system is designed to integrate into a traditional or IP broadcast environment and blend seamlessly with Virtual Reality video production, making it ideal for remote internet or broadcast live productions, whether music concerts, sports events, church services or conferences.
Big Pic Media (510)
will demonstrate tools for ingest, QC, transcode, encode and delivery. OMG's Cubix will form the foundation of the demonstration; its elements being configurable to match multiple workflows. Cubix is a scalable media asset management, automation and orchestration platform comprising 27 modules which can be combined to match a range of deployments and applications. Features making their Media Production Show debut include Biometrics, Cognitive Services and Timelines, Cubix Tracker & Reporting and Cubix Taskflow Designer. "We have expanded our MPS stand space this year so that visitors can experience a complete workflow configuration based some of the world's most advanced technologies which we are able to offer globally," says Adam Welsh, Big Pic Media's UK-based Managing Director.
Canon (302)
will unveil its new 4K compact Cinema EOS camera – the EOS C200. It is the first camera in the Cinema EOS range to support the new RAW recording format – Cinema RAW Light – but provides the same flexibility in colour grading as Cinema RAW in a smaller file size. Elsewhere, newly-developed Canon Dual DIGIC DV6 processors provide the ability to record internally 4K UHD/50P MP4, 4K DCI RAW and continuous 120fps High Frame Rate (HFR) in Full HD without crop. The EOS C200 features Canon's 4K Super 35mm CMOS sensor with a pixel count of 8.85MP. It supports up to 15-stops of dynamic range with Cinema RAW Light and up to 13-stops of dynamic range in MP4 (Canon Log / Log 3). The EOS C200 is also capable of delivering both slow and fast motion recording at up to 120fps with no crop in Full HD/MP4. Built-in WiFi and Ethernet connectivity allows for browser remote control and the ability to transfer files via FTP, while the camera's compatibility options mean new and existing accessories can be used.
The team at
Christy Media Solutions
will be at the Media Production Show
(Stand 100)
and will include recruitment consultants recruiting for roles in: broadcast operations and production, creative, post and design, broadcast technology, sales, marketing, and broadcast projects and consulting. A meeting with a member of the team can be pre-booked via the Christy Media Solutions website, otherwise visitors can stop by the organisation's stand on the day for an informal chat.
Cooke Optics (554)
will present two new lens ranges at the show. Launched at NAB 2017, the S7/i Full Frame Plus prime lens range is designed to cover the emergent full frame cinema camera sensors, including the RED Weapon VV 8K and the ARRI Alexa 65 in 16:9 mode. The Panchro/i Classic range is a modern redesign achieving the same look and feel as the original Speed Panchros, with newly designed housing and PL mounts. The new Panchro/i Classic lenses are lightweight, making them ideal for handheld, drone and Steadicam work. Cooke lenses from its Anamorphic/i, 5/i, S4/i and miniS4/i ranges, and the Sony E and micro 4/3 mounts for miniS4/i and Panchro/i Classic lenses will also be on display.
G-Technology (320)
will showcase the full range of new Thunderbolt 3.0 solutions and look forward to introducing the potential to new and existing customers and talking about integration of USB-C, Thunderbolt 2.0 and Thunderbolt 3.0.
Groovy Gecko (552)
will demonstrate a range of live streaming functionality, focusing on live 360° video and Facebook live streaming. The company will also showcase its interactive capabilities, including the polling feature recently used during a live campaign for Waitrose. Recent live streaming deployments from Groovy Gecko have featured multiple page distributions into platforms including Facebook, Periscope, VK and Twitch. Jake Ward, Business Development Director, Groovy Gecko, commented: "As one of few Facebook Live production partners, we have over 17 years of experience and knowledge of what works best when it comes to live streaming. Facebook Live 360° video has been growing in popularity, while interactive streams are becoming a great way to increase engagement. We're looking forward to showcasing just how effective live video can be at The Media Production Show."
JVC (518)
will display the latest monitor ranges for studio and production applications. The new DT-V range deliver accurate reproduction of colour and HD image quality required for broadcast applications. The two top models in the range – the 17" DT-V17G25 and the 24" DT-V24G2 – are equipped with a 10-bit IPS LCD panel. Gamma and grey gradation have also been improved. They feature an integrated waveform monitor, vectorscope and histogram, where users can display values for colour saturation, brightness and input signals. The other two models in the range – the DT-V17G2 and the DT-V21G2 – also have the above features, including 10-bit signal processing and an LCD panel with 8-bit colour depth. In addition to HD-SDI support, the monitors have a 3G HD-SDI interface to enable 1080p (non-compressed digital video data) with a data rate of up to 3Gb/s transfer.
Providing specialist asset finance for media, broadcast, live events and AV for 20 years,
Medialease (620)
will be in attendance at the Media Production Show. By marrying up the customer – new Co or established; large PLC or tiny sole trader – with one of its 25 partner finance companies, Medialease can provide the right solution and advice for any company, offering a range of solutions that put the customers' needs first. At MPS, Medialease will be on hand to guide visitors through all available options, helping them to make the right decisions.
Soho Editors (201)
will host a number of seminars over the two days and demonstrate how easy it is to collaborate between editors, graders and even an audio mixer in DaVinci Resolve 14. The sessions, which are free to attend, will showcase the new features of Blackmagic Design's latest release of DaVinci Resolve 14 and cover its varied capabilities, from editing to finishing.
Making its worldwide debut at MPS2017,
Stand 130, SpaceCrate
is a permanent or temporary, professional-spec creative space designed for a variety of creative applications in Media & Entertainment, for production and post. Prefabricated for cost-effective, simple deployment and instant use, SpaceCrate is constructed within the standard ISO-spec 20-foot shipping container and is every bit as modular, secure and simple to transport.
Representatives from a number of studios will also be in attendance, including AED Studios, Camberwell Studios, Twickenham Studios, and West London Film Studios.
To register for the Media Production Show, visit
www.mediaproductionshow.com
.
(JP/LM)
Top Related Stories
Click here for the latest broadcast news stories.