Broadcast News
28/08/2002
G.V. Multi-Media and Panasonic present new range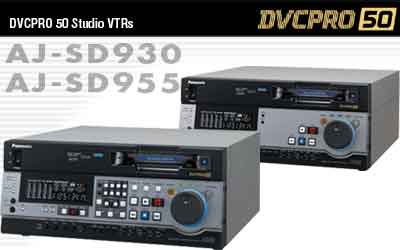 The new Panasonic AJ-SD955 and AJ-SD930 50Mbps DVCPRO50 VTRs, available from G.V. Multi-Media, combine superior image and audio quality with extraordinary performance.
Specifically crafted for top-end professional use, these DVCPRO50 models feature the desired functionality for program production and post-production.
High picture and audio quality is assured by 4:2:2 digital component recording and four channels of digital audio. With SDI input/output standard, the AJ-SD955 and AJ-SD930 debut as cost-effective solutions for today's digital video production needs.
Features of the high-quality DVCPRO50 format include:
4:2:2 digital component recording at 50 Mbps (twice the rate of DVCPRO) with a low compression ratio of 3.3:1, four channels of 48-kHz/16-bit digital audio, maximum recording time of 92 minutes with the DVCPRO50 L-cassette and full compatibility with DVCPRO and DV.
Both models can record and playback in DVCPRO (25 Mbps), allowing up to 184 minutes of recording and playback.
For further information contact:
Martin Price
(GB)
Top Related Stories
Click here for the latest broadcast news stories.