Broadcast News
30/05/2017
Canford Uses 3D Printing Technology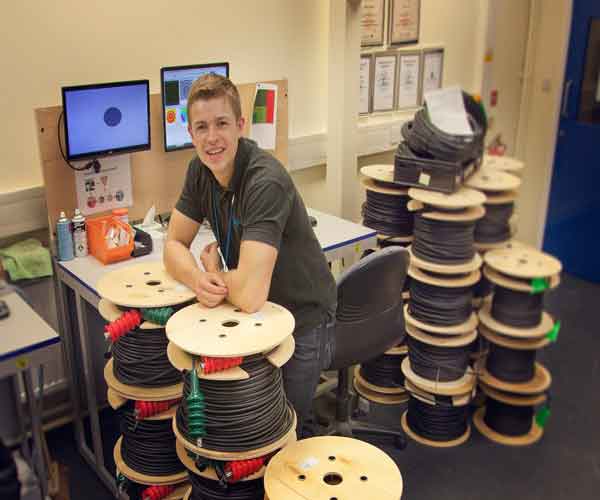 Canford has successfully utilised in-house 3D printing technology to improve productivity within the company's fibre termination department.
Canford specialises in the manufacture and distribution of professional audio equipment for the broadcast and pro AV installation markets. The company has recently completed the upgrade and expansion of its warehouse facilities. The works marking the latest phase of its strategic growth plan, which has included the relocation of production to a bespoke facility, and the creation of a fibre termination department.
Canford's fibre termination service comes as the broadcast marketplace moves further towards Ultra High Definition (UHD) content acquisition and transmission techniques, where traditional copper cables are unable to handle the high data levels generated by new high-resolution equipment.
The nature of the broadcast market often means customer requirements are urgent and so Canford's fibre service was set-up to offer a short lead-time for the termination of broadcast connectors: LEMO STMPE and Neutrik opticalCON.
Launched during September 2016, the fibre termination service out-performed initial expectation and lead to the team being expanded early in 2017.
Fibre termination is delicate, precision work. Canford staff complete specialist certified training programmes before they can produce the mission critical cables which are often deployed at premier football grounds and other outside broadcast venues.
Engineers spotted an opportunity to further improve Canford fibre productivity with a custom modification. They have successfully utilised the company's 3D printing facilities to produce tailor-made tooling which has increased the capacity of Canford's precision fibre polishing equipment.
Canford Design Draughtsman, Richard Clogg explained: "We acquired the 3D printing equipment for general mechanical prototyping - if we design a new moulding, such as the headphone limiter case, we would go to a rapid prototyping company and have samples 3D printed to verify our design, at high cost. Our own equipment allows us to do this in-house and experiment with more design iterations and improvements, at a much higher rate - days instead of weeks.
"With the 3D printing facility up and running, the capability and techniques possible were further realised – we saw an opportunity to increase the throughput of the fibre polishing machine."
www.canford.co.uk
Top Related Stories
Click here for the latest broadcast news stories.