Broadcast News
19/01/2015
DPA – Making Noise At ISE 2015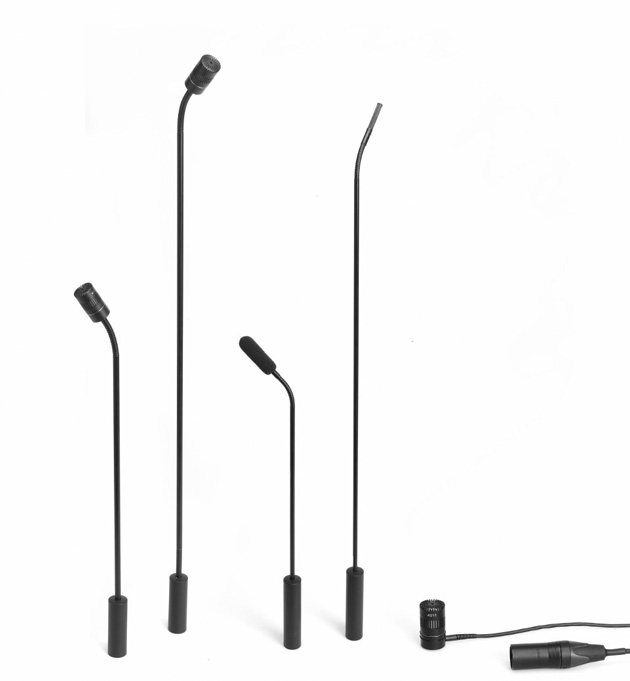 DPA Microphones will be exhibiting at this year's ISE exhibition in Amsterdam (stand 7-V240).
Podium and Floor Stand Microphones
– DPA's Podium Microphone range consist of the d:screet™ Miniature Podium Microphone, based on a special interference tube technology that provides directivity and off-axis rejection.
"We were contacted by an organization that had simultaneous interpreters refusing to use their existing microphones because the audio quality was so bad," says DPA's CEO Christian Poulsen. "Simultaneous interpreting is a hard job and if the audio is poor, it gets even tougher. We knew we had the right capsule technology to take their existing solution to a new level - we just had to develop the microphone solution for the purpose. When testing against three or four times more expensive competitive podium microphones, our shotgun solution was clearly better. We are proud to set the new standard of podium microphones securing high speech intelligibility."
The miniature capsule is mounted on a delicate gooseneck and comes in several lengths for table mounting. It can be used in a wireless configuration by employing the company's adapter range, which is already used for other miniature microphones.
DPA's Podium range also includes the d:dicate™ Podium Microphones that incorporate modular capsules from DPA's d:dicate Recording Microphones, which feature reliable linear frequency responses, high SPL and superior gain before feedback, for the precise high quality microphone for their needs.
The company is also showing its d:facto™ Vocal Microphone, a hand-held vocal mic that offers true studio sound in live surroundings. Due to the modularity of the two ranges, the d:dicate capsules can be mounted on the d:facto handle or dedicated adapters, that permit it to be used on various professional wireless systems.
Body Worn Microphones
– DPA will complete the ISE line-up with its full range of body worn microphones consisting of the d:screet Miniature Microphones mainly used as lavalier and the d:fine™ Headset Microphones.
The d:screet Miniature Microphones will include the recently launched d:screet Omnidirectional Miniature Necklace Microphone – a cleverly designed mic that houses the d:screet 4061 Omnidirectional Miniature Capsule in a soft rubber necklace.
The d:fine Headset Microphones are unobtrusive microphones that are popular with conference speakers and adjudicators who want to keep hands free. Offering substantial gain before feedback, the microphones are renowned for their audio accuracy and ability to deliver natural speech intelligibility and consistent audio performance at all SPLs. Available in both directional and omnidirectional options, in single or dual-ear designs, d:fine Headset Microphones are comfortable to wear and can be adjusted to accommodate any ear size and head shape.
www.dpamicrophones.com
(IT/JP)
Top Related Stories
Click here for the latest broadcast news stories.