Broadcast News
27/04/2017
Lawo Adds SOUL To Broadcast IP Network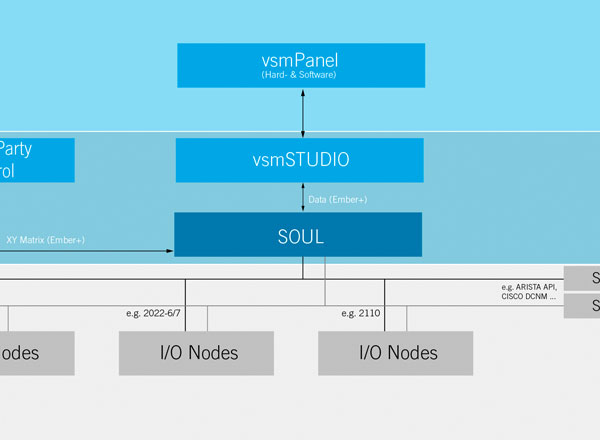 Lawo has announced the debut of its new Seamless Orchestration and Unification Layer (SOUL), an overarching orchestration service for IP-based production environments, at NAB 2017.
SOUL is aware of, and handles, information from all system components. It manages the generation and routing of audio and video streams in any multi-vendor IP setup, and is compatible across individual interfaces and technical solutions.
SOUL provides a single point of control for any network size and any network topology and offers the central service for stream routing and resource management across single-switch, spine-leaf, or mesh network infrastructures.
Using Ember+, it presents a unified northbound matrix representation of the network towards an overall control system such as VSM (Virtual Studio Manager), and orchestrates and controls IP-based environments on various levels. SOUL is capable of Hitless Merge and Routing State Recovery and provides sophisticated system redundancy.
Through standardized or vendor-specific APIs, SOUL accesses switches and network components, including encoding and decoding devices, cameras, multiviewers, processors, switchers, consoles, etc, to directly control the generation, registration, and routing of streams. It follows industry specifications like NMOS to utilize devices. In addition, proprietary interfaces are used to achieve a more sophisticated control over edge devices.
Key features include:
• Ember+ northbound abstraction of the network.
• Switch-API support southbound, with access to multicast routing.
• Full Layer 3 compatibility.
• Agnostic to various switching mechanisms.
Supported switching modes: Patching, Destination (make- before-break, break-before-make…) and Source Timed Switching (hardware dependent, e.g. Lawo V__matrix).
• Compatible with NMOS 1.0 (and higher), SMPTE 2022-6, 2022-7, 2110, AES67, RAVENNA.
• Intuitive configuration GUI for fast configuration, template support, browser-based setup.
• Perfect integration with Lawo V__ units.
lawo.com
Top Related Stories
Click here for the latest broadcast news stories.