Broadcast News
12/04/2017
Winner Named Of The Vista Project Student Filmmaker Competition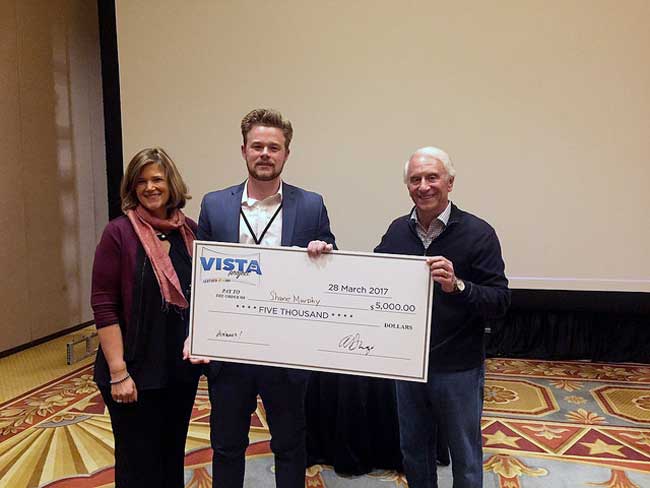 The winner and runner-up of this year's The Vista Project student filmmaker competition has been announced. The competition, hosted by SMPTE and TimePlay, was held during the recent CinemaCon week, at Caesars Palace in Las Vegas.
For the competition, TimePlay supplied its proprietary technology platform, while members of the company's executive team mentored students in completing 10-minute short films featuring storytelling with multiple branching options that enable the audience to choose the plot direction.
The judging committee was led by Bud Mayo, Chairman of New Vision Theatres, and Barbara Lange, SMPTE and Hollywood Professional Association Executive Director. Shane Murphy (San Francisco State University student in San Francisco) was named as the winner of the competition, scooping the $5,000 grand prize for his entry 'Sirens', with Jon Navarro (Long Island University student in Brooklyn, New York) selected as runner-up. He received a $2,500 prize for 'The Republican'.
Bud Mayo, who is also founding chair and financial backer of The Vista Project, said: "We're very pleased with our finalists' completed works, which debuted at a special screening attended by members of the exhibition community, media, and guests.
"TimePlay's innovative technology made this unique, interactive next-gen content creation possible, and we are especially grateful to John Race and Andrei Petrov of TimePlay for working closely with our students to help them complete their shorts on an accelerated timeline so they could be presented at CinemaCon. I would also like to congratulate our third-place finisher, Ian Job of Africa Digital Media Institute in Nairobi, Kenya."
Image: Vista Project Winner Shane Murphy.
www.smpte.org
www.thevistaproject.com
(JP/LM)
Top Related Stories
Click here for the latest broadcast news stories.