Broadcast News
06/04/2017
Version2 And LED Creative Team Up For Red Nose Day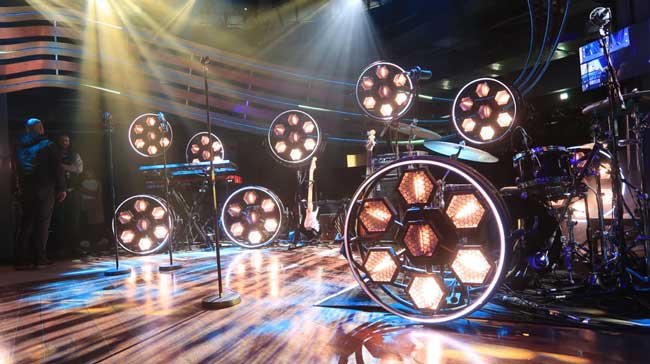 Version 2 Lighting and LED Creative recently provided support to the crew and BBC Studios Production team for Red Nose Day 2017. This year's event was broadcast live from Building Six at London's O2 arena.
For the event, Version 2 worked alongside Lighting Director Oli Richards and Gaffer Mark Gardiner to create a vibrant yet versatile installation, designed to easily handle instantaneous shifts between a mix of moods as the show switched between comedy, interview, musical performance and the important reports on the difference that Comic Relief is making in the world.
Scenic Designer Josh Grace worked with LED Creative to build the set, with his use of the company's new BYTE Intelligent Pixel System adding colour style and movement throughout the continuous organic waveform backdrop. Offering multiple layers of colour and editable effects via a lighting console, LED Creative BYTE delivers subtle, bold and stunning effects across large numbers of pixels with a just a few channels of DMX, no media server required.
In addition, adding colour and motion throughout the studio, Martin Viper Performances, MH7 Hybrid, Aura XB and Rush Pars were paired with ETC Source 4 Revolution's and Clay Paky Mythos whose key lighting and spot abilities ensured proceedings remained bright and clear throughout.
Along with an extensive lighting package that included rigging, labour and power, the show featured bespoke fixtures created specifically for the evening. Of particular note were a host of daylight converted Portman P1 heads – created through collaboration between LD Richards, Version 2 and LED Creative – to incorporate cylindrical LED frames that added crisp highlights to the fixtures, making them a key onstage feature.
Adam Howard, LED Creative Director, said: "We're incredibly proud to have supported Comic Relief and Josh Grace's set design with our new product offering. The Led Creative BYTE system which simplifies and streamlines setup time and costs and retains artistic choice and creativity was the perfect fit for the requirements of this high profile and time critical project."
Nick Edwards, Managing Director at Version 2, added: "This has been a huge event for everyone involved. From the studio floor to the roof of The O2 the crews and production teams have been incredible. I'm delighted that Version 2 were able to help create such a fantastic event."
Image: Version2 and LED Creative worked on the recent Red Nose Day 2017 production. Photo Credit: Chris Rustage.
www.v2lights.co.uk
(JP)
Top Related Stories
Click here for the latest broadcast news stories.