Broadcast News
18/06/2019
LED Creative Supports Production Designer Alex Craig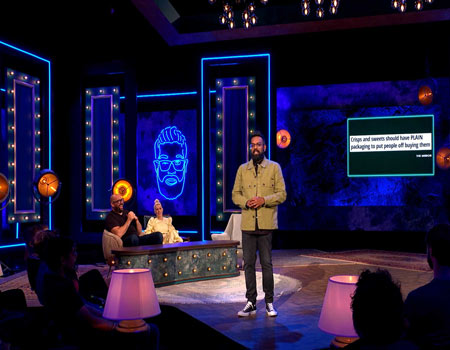 LED Creative are supporting Production Designer Alex Craig on the new series of The Ranganation, produced for the BBC by Zeppotron.

Recorded in two stints at Elstree Studio D and Television Centre, the show is hosted by comedian Romesh Ranganathan who is joined by a specially selected studio panel, comedy colleagues and expert guests to take a humorous look at the week's biggest talking points.

Working alongside award winning Lighting Designer Gurdip Mahal and Art Director Ben Telford, LED Creative provided a selection of products to help create Designer Alex's vibrant, neon-esque look that accompanies the show.

A key feature within the design is the incredibly artistic use of LC Alpha Neon LED. Blending the convenience and versatility of traditional neon with state of the art LED technology, the product proved the ideal solution for shaping the oversize graphic icons mounted against giant LED framed panels surrounding the main stage area.

Commenting on the project, Alex said: "I wanted to add a neon look to the set, and LED Creative's Alpha Neon seemed like the perfect product to create a series of large scale graphic icons, each of which has quite a bit of detail and intricacy in its design. The consistency in the colour and brightness of the product enabled us to create 4 individual designs, including a portrait of Romesh, our host, which have worked out really well and look great on camera."

The masterly use of light by the team constructed an excellent juxtaposition of old and new between the clean linear look of the framed LED artworks and the simulated warm tungsten glow of the Robe PATT 2017 retro style LED fixtures which decorate the set. The onstage intensity and brightness of the blue neon hues used on stage combined with the warm ambience of the audience area creates an almost cartoon-like feel that perfectly complements the show's humorous appeal.

LC Alpha 60, Diffuze Conduit system and BIT Controllers were also incorporated into the set providing the crew with maximum flexibility and precision control over all aspects of the LED applied throughout the set.

Alex continued: "The products and support from the team at LED Creative has been great. They have worked with us throughout the production to make sure we had exactly what we needed - sometimes at incredibly short notice. I am thrilled with how well the 'neon' LED icons have turned out and at all the positive feedback that I have received about them."
Top Related Stories
Click here for the latest broadcast news stories.