Broadcast News
22/03/2017
Custom Consoles Delivers Second Project For CERN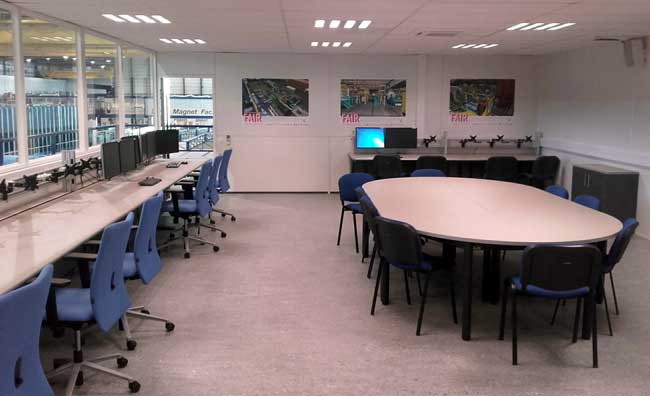 Custom Consoles has completed its second technical control desk project at CERN's headquarters.
The project includes the design and installation of three desks from Custom Consoles' SteelBase-Lite series. All are located in a control room assigned to heavy magnet testing together with a large meeting table seating up to 12 people.
Widest of the three control desks is an 8.5 metre structure designed for simultaneous use by up to five operators. The two smaller desks are 3.5 metres in width, each configured for two operators. Each desk has a front-to-back depth of just over 1 metre and Marmoleum-finished worktops. Each of the nine operator positions is equipped with three computer monitor display mounting beams which can be individually adjusted in lateral and vertical angle.
The control desks are positioned in a U configuration, facing three walls of the rectangular room, with the planning desk positioned near the centre. Two storage cabinets have also been provided, each 1 metre wide by 400 mm front-to-back, finished with matching bird-laminated top surfaces and anthracite-grey laminated doors.
David Hay, Technical Coordinator at CERN's Engineering Department, said: "Technical control furniture from Custom Consoles' SteelBase and Steelbase-Lite product ranges was chosen in 2016 for the LHCb control room and cryogenics control room. SteelBase and SteelBase Lite were selected for the LHCb main control room. In partnership with Custom Consoles we chose Steelbase Lite for this latest project which relates to the HMT control room. The desks have all proved hardwearing and aesthetically attractive. Our operators particularly appreciate the ergonomic excellence of SteelBase-Lite and the well designed cable management features."
"We were naturally very pleased to have been selected for this second project by such a high-profile client," added Gary Fuller, Custom Consoles' Sales Manager. "The furniture was prefabricated at our UK headquarters before being delivered to site and installed by Custom Consoles technicians."
Custom Consoles SteelBase-Lite is a range of high-durability technical desks which can be configured to provide an ergonomically efficient working environment for any size of control room. The desks are built of high-grade MDF on steel base frames with powder-coated textured-grey vertical panels. They can be specified for single or multi operator environments. Worktops can be rectangular or curved, including angled or curved corners and optional curved-front-profile side panels. All elements of the desks are guaranteed against component failure for five years of normal use. The SteelBase range has been fully tested for conformance with ISO and EN ergonomic standards.
Image: Two of the three new Custom Consoles Steelbase-Lite desks and auxiliary furniture in the CERN Heavy Magnet Testing control room.
www.customconsoles.co.uk
(JP/LM)
Top Related Stories
Click here for the latest broadcast news stories.