Broadcast News
16/04/2019
Custom Consoles Completes Twin Desk Project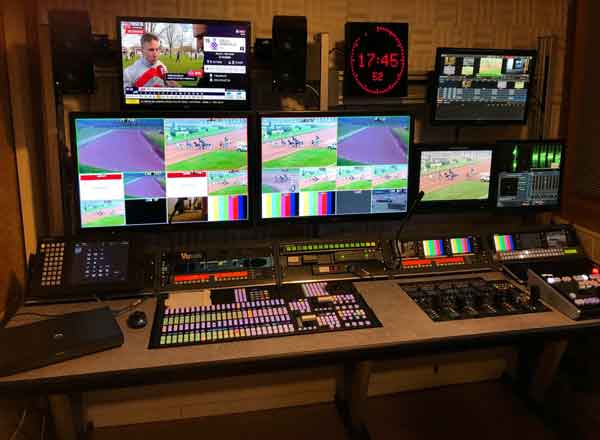 Custom Consoles has completed a twin-desk project for Switzerland's National Equestrian Institute (IENA).
Working in partnership with the Geneva, Zurich and Lugano based broadcast systems integrator Visuals, two desks based on the Module-R series have been produced and installed in a sports broadcast master control room at the IENA stadium in Avenches.
Visual's Broadcast Systems Project Manager Peter Sullivan commented: "The new facility essentially replaces a large outside broadcast trailer which IENA transported to various venues. As a subsidiary project, we have equipped a new smaller mobile vehicle for coverage of sport events at other locations. Our role at the Avenches stadium was to de-install the equipment from the trailer and mount it permanently in the new control room. We have worked with Custom Consoles before and find the Module-R series an ideal basis for progressing from initial planning phase to fully functioning control desks. We made a draft layout showing what equipment was going where. Custom Consoles then did fine-tuning. Space was a key issue, resolved by choosing desks with shorter front-to-back dimensions and compact 3U high equipment pods rather than the taller and deeper 6U."
The largest of the two desks is a 2.6 metre wide by 950 cm front-to-back five-bay rectangular unit with a centrally inset Sony vision switcher and, to the right, six inset camera control units. Each of the five bays is fitted with a 3U high equipment pod. A 2.6 metre wide monitor rack supports live source, preview and transmission video displays plus near-field monitor loudspeakers.
Located just over a metre behind the main desk is a 1.6 metre wide second desk with a Panasonic camera controller allowing up to 100 IP-connected remote cameras to be operated from a single joystick. The camera controller bay incorporates a 3U equipment pod. To its right is an audio production position with a custom inset well to mount the Yamaha DM1000 audio mixer and a monitor bridge.
A mix-and-matchable control room furniture range, Custom Consoles' Module-R enables aesthetically attractive long-life desks to be configured in a variety of shapes and dimensions from a selection of high-quality pods, base sections, 19 inch rack housings, worktops, end-panel modules and legs. Coordinated desk pods are available as single-bay sections with up 10 rack unit chassis capacity.Module-R has been tested by FIRA to ensure compliance with current ISO standards. It is supplied with full cable management and internal 19 inch racking, accessible via removable front and rear cover panels. All rear surfaces and pods are completely interchangeable. A full length cable brush enables easy reconfiguration.
www.customconsoles.co.uk
Top Related Stories
Click here for the latest broadcast news stories.