Broadcast News
09/03/2017
SAM Unveils Morpheus UX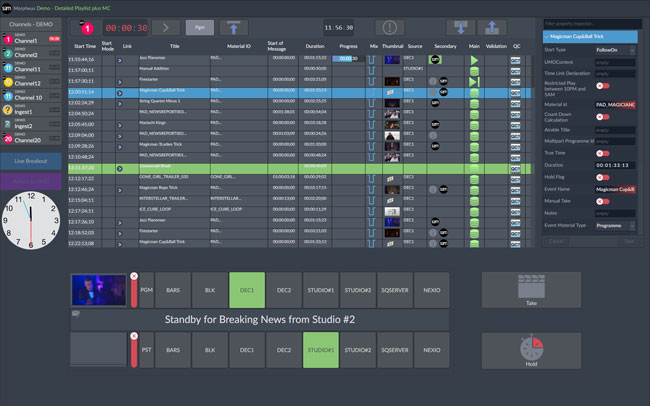 SAM has unveiled Morpheus UX – a user-definable control interface for its Morpheus playout automation and Ice Channel-in-a-Box product line.
Available from this month, Morpheus UX will enable customers to customise their channel views and focus on the specific functionality they need.
Customers need to be able focus on significant events, such as live feeds or potential error points, rather than using large amounts of screen space with 'green' events that are guaranteed to go to air. SAM's aim with Morpheus UX was to challenge the belief of what a channel playlist view should consist of and to deliver a new approach to playout automation.
With Morpheus UX, ICE and Morpheus, customers can build user-defined panels that precisely match their playout operation and they can build screens made of as many of these panels as they need. Specific functions can be built into any screen, in any layout, and recalled at any time. Unnecessary or rarely used functionality can be hidden away, while functions that are required at the touch of a button are front and centre. Examples of panel types and functions include a panel that just shows upcoming live events, a screen for a supervisor who can see the next four events across 10 premium channels and then add emergency control buttons to advance or pause the playlist for each of those 10 channels, and a traditional, fully-featured list view with secondary events, event status and multiple countdown timers can be built.
For live interaction, a complete master control mixer can be built with program bus cuts, DSK and DVE control; this is fully interactive with the running playlist to ensure everything is contained in the automation asrun, while a 'shotbox' of graphic events can be built and put to air immediately during live events. In addition, customers can aggregate the control and monitoring of channels that have been split across multiple automation points of presence, which improves operational responsiveness when controlling remote disaster recovery systems.
With Morpheus UX, one operator can manage complex playout environments with each channel able to benefit from a different look. Morpheus UX reduces the cost of ownership for client seats, enhances data centre deployments and ensures operations can be located anywhere to further reduce OPEX costs.
Neil Maycock, EVP and General Manager, Media Software Solutions at SAM, said: "Today's playout environments vary massively both in scale and complexity of channels. With virtualization set to increase the ability to launch additional services, a new way of looking at control is essential.
"Morpheus UX is the result of a thorough analysis of today's playout operations, where it's abundantly clear that one size no longer fits all. What's required is the ability for customers to define their own user interface, on a channel-by-channel basis if desired. They have to be able to quickly access core functionality rather than search through unused items or menus.
"At SAM, we're constantly pushing the envelope in terms of product development. Morpheus UX really breaks new ground in playout automation and is a testament to our collective experience in continuing to lay the foundations for the broadcast workflows of the future."
SAM will offer demonstrations of the Morpheus UX interface at its booth SL1805 at NAB 2017.
www.s-a-m.com
(JP)
Top Related Stories
Click here for the latest broadcast news stories.