Broadcast News
30/01/2017
Tenba Unveils New Cineluxe Collection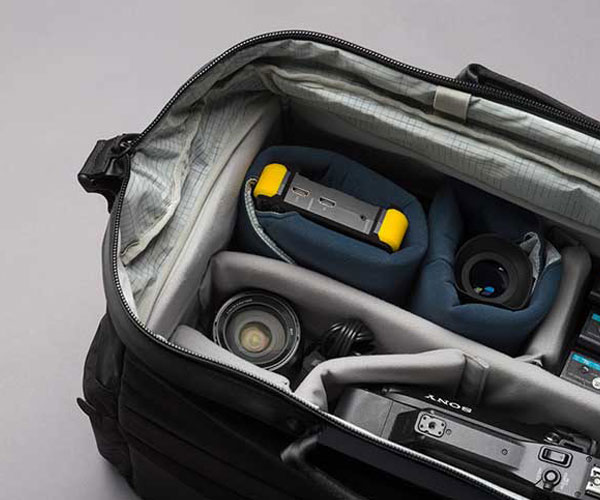 Tenba has announced its new Cineluxe Video Bag range, which will be on display at BVE 2017, 28 February to 2 March.
Developed in conjunction with professional filmmakers, the Cineluxe Collection comes with a fast 'doctor bag' style opening, providing filmmakers with the quickest possible access to their gear – and also enable cameras to be stored with baseplates, matte boxes and other rig components attached. 


The range also features Tenba's FlexCore dividers and an included set of padded wraps, helping to maximise interior storage space by protecting additional lenses and other accessories, alongside a built rig. 


There are seven models available in the new range. They include: 

• Cineluxe Shoulder Bag 16 (£160 SRP) 

• Cineluxe Shoulder Bag 21 (£200) 

• Cineluxe Shoulder Bag 21 Hightop (£220) 

• Cineluxe Shoulder Bag 24 (£240) 

• Cineluxe Backpack 21 (£250) 

• Cineluxe Backpack 24 (£270) 

• Cineluxe Roller 21 (£320) 


Features include: 

• Extra wide, fast opening 'Doctor' style bag allows unobstructed access via one quick zipper down the middle of the bag 

• A protective shell, featuring anodized aluminium bars, work together to ensure protection on all sides 

• Tenba's Flex Core Dividers (made with aluminium for reinforcement) are both rigid and flexible, providing a secure separation between kit, while also being repositionable and bendable 

• Soft padded wraps and a zippered pouch are included in every Cinelux bag to protect lenses and delicate accessories, allowing them to be safely stored alongside camera rigs 

• A foam lens pillow and camera-securing strap to provide extra stabilisation 

• Cinelux bags also feature a rear 'Trolley Strap', so they can slide over the extending handle of a rolling case for quick and secure piggyback travel. 


tenba.com
(MH/CD)
Top Related Stories
Click here for the latest broadcast news stories.