Broadcast News
01/12/2016
Beach House Pictures Chooses EditShare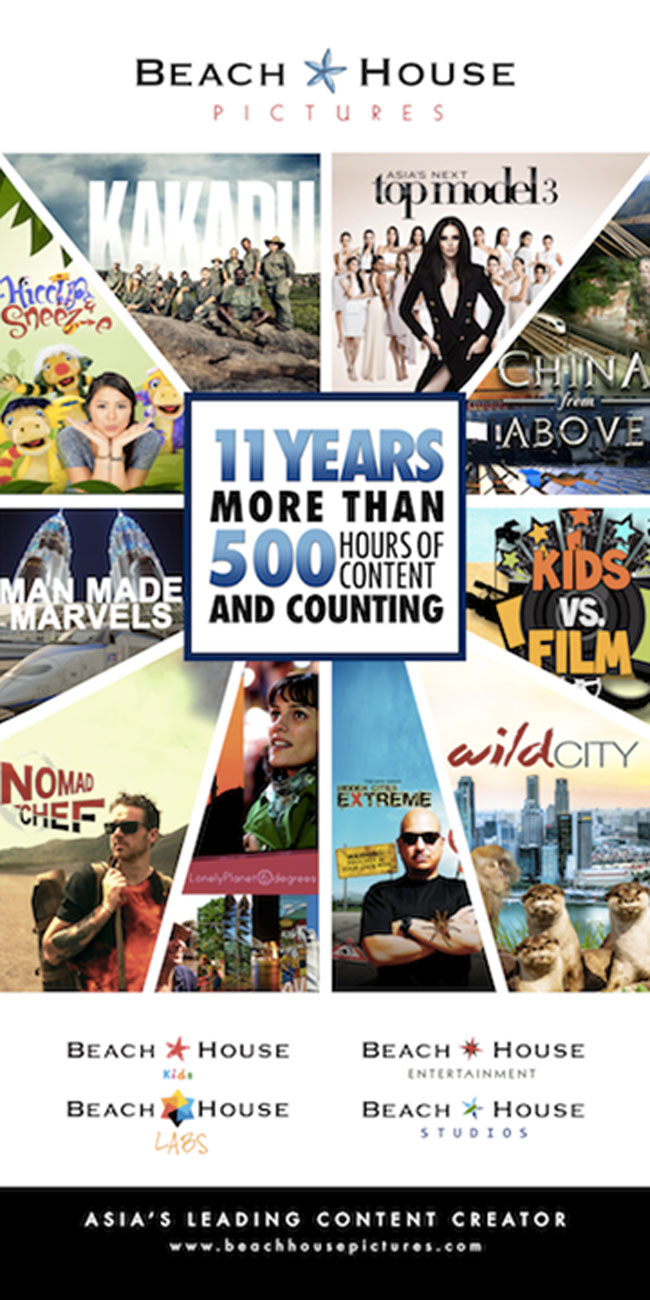 EditShare's media management solutions have been selected by Beach House Pictures as part of an upgrade to its media infrastructure.
Based in Singapore, Beach House Pictures is a production and post-production house with locations in Australia, China, Taiwan and the US. As part of the upgrade to its Singapore facility, the company installed a range of solutions from EditShare, including EditShare Flow media asset management, 235 TB EditShare EFS XStream shared storage, and EditShare Ark tape-based archiving.
Steve Pelluet, Head of Technology, Beach House Pictures, explained: "Beach House Pictures now employs up to 100 people who work on an ever growing range of content. The established 'sneaker-net' workflow of drives being passed from one stage to another is just not conducive to the demands of the industry anymore."
He continued: "In any given project, we can log up to 50 terabytes of rushes and transcoded files, stored on attached drives which are shared among the various producers, transcribers, editors and other creatives. Swapping drives from one docking station to another to share and access content was fine when we were much smaller and delivering more traditional broadcast content, but today it simply does not work. We needed a logical way to centralize content and make it easily accessible to users in the way best suited to their needs."
Under the existing workflow, Beach House Pictures production and post production staff would copy content from one drive to another to share media, requiring an enormous amount of attached drives and a manual cataloging system via Microsoft Excel to track media assets.
With the new installation, featuring EditShare's storage platform XStream EFS, the architecture is designed to manage large media volumes and workgroups with a fault-tolerant design that ensures no work is lost. The XStream EFS is fully integrated with the tape-based archiving system EditShare Ark, with Flow MAM serving as global media governance across the facility.
"EditShare will make content readily available across the facility without the headache of tracking down drives or resources to navigate complex systems," said Peter Lambert, Head of Sales, EditShare. "Producers and directors can log into Flow from any laptop or system on the EditShare network, search the EditShare main storage system or archives and pull up their project. No more copying content from one drive to the next or waiting in an edit bay for someone to be available. They can call up a project, view the proxies, storyboard or make notes and send back to the editor."
In addition to the search and production tools, EditShare Flow offers automation capabilities for a variety of media processes, including transcoding the many formats Beach House Pictures must deal with. Under the new workflow and infrastructure, the Beach House Pictures team can freely share assets, collaborate on stories and repurpose content for trailers, commercials and even vignettes for social media.
Beach House plans to move all of its existing content from the various attached drives onto the EditShare Ark, making past programmes searchable through the Flow database.
www.editshare.com
(JP/LM)
Top Related Stories
Click here for the latest broadcast news stories.