Broadcast News
15/09/2017
Dublin-Based Egg Powers Expansive Post Workflow With EditShare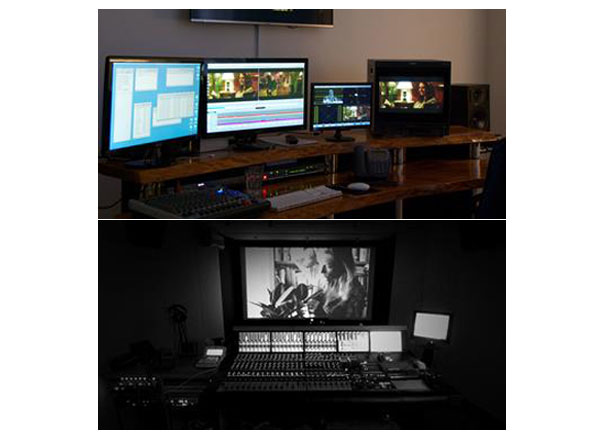 EditShare has announced that Irish post production and VFX studio Egg has installed the high-performance EditShare XStream EFS 450 scale-out storage platform with Flow media asset management and Ark archiving as the core infrastructure for its projects dealing in 4K, 8K and beyond.
The integrated EditShare solution provides a tiered storage environment with smart media management tools for controlling media assets from ingest to archive.
The powerhouse facility, lead by renowned creatives Gareth Young and Gary Shortall, is known for creating some of Ireland's most beloved episodic programs and groundbreaking films and documentaries. With a global reputation for excellence in post services, the busy Egg facility finishes upwards of 16 films and a slew of TV projects per year.
Gareth explained: "Egg is working in both sound and visual, and for the most part, in file formats of 4K and above. We have 11 Avid cutting rooms, two fully equipped DaVinci Resolve colour grade suites, a sizeable visual effects department that can accommodate up to 40-plus creative staff, plus three Avid Pro Tools-based sound studios and three sound stages."
The extensive list of high-demand services offered includes editing, color grading, audio and VFX. With most projects developed in file formats of 4K and above, the large post facility required a robust infrastructure that could manage the intense demands on bandwidth and fast-paced collaboration required by all departments.
To accommodate these requirements, Egg upgraded its infrastructure to the EditShare XStream EFS 450 scale-out, shared storage and Ark archiving solutions with integrated Flow MAM featuring the Flow Story editor. The infrastructure provides tools for managing ingest, tracking assets and metadata, project sharing and tiered storage with automation between production storage and archives, as well as collaborative tools for managing editorial and reviews.
Centralizing content for project sharing for both online and offline groups, EditShare facilitates a fluid ingest-to-archive workflow with capabilities to support the ebb and flow of bandwidth needs backed by a fault-tolerant architecture for protecting client work.
Gareth continued: "Our infrastructure requirements are quite steep in terms of performance AND reliability. We looked at Avid and we looked at EditShare and we looked at another three or four other options. We decided on EditShare because of its storage performance capabilities and the additional features it offered through Flow. Modules like Flow Browse and, as an editor myself, Flow Story will be very useful tools for us.
"With EditShare, Egg has a one-vendor-solution that offers the right level of service and support they require. Gareth elaborates, "We really like the idea that everything is in one solution. It was a key point for us in our decision to go with EditShare. We don't have to deal with third-party vendors blaming each other if something goes wrong. We know that EditShare is just a phone call away, and they are going to help us solve any problems that arise, no matter what happens."
In addition, Egg has benefited from the advanced project sharing EditShare storage solutions are known for. Gareth added: "Our editors can share the same media, the same projects and the same bins. They fire sequences back and forth to each other. For the offline world, that's a big plus to be able to do that, and while you could do this in other systems, EditShare does it very well. And of course, the picture department with online, that was a big change for us because we were never able to share media between online and grade in a time-effective way. Now we can, and that is a big efficiency gain here."
Completing the workflow is EditShare Ark. Egg will utilize the tiered storage and Ark back up infrastructure to safely and efficiently archive clients' valuable media and projects.
Tara Montford, managing director, EditShare, also said: "EditShare is the cornerstone for facilities like Egg. Flow, EFS and Ark ensure media is safely managed at every point in the production process, providing key integrations to make sure assets are available immediately across the facility. It's a proven workflow on a fault-tolerant architecture that guarantees peace of mind in addition to outstanding performance."
editshare.com/products/xstream
Top Related Stories
Click here for the latest broadcast news stories.