Broadcast News
18/10/2016
Leader Instruments Heads To SMPTE 2016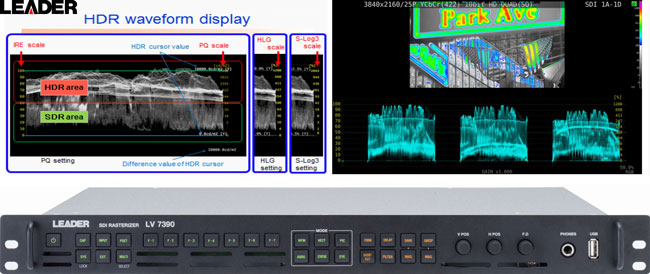 Leader Instruments has announced it will highlight its test and measurement solutions at SMPTE 2016, 25 – 27 October, Hollywood.
At the event will be an upgrade option for Leader's LV7390 rasterizer, as well as a new 4K and HD HDR option for the LV5490 waveform monitor.
The Leader LV7390 is a compact 1RU 3G/HD/SD-SDI rasterizer which can be used to measure up to four 3G-SDI, HD-SDI or SD-SDI source channels simultaneously. It can be deployed for desktop or rack-mounted operation. Designed to connect to 3G-SDI, HD-SDI and SD-SDI systems, the LV7390 incorporates full-resolution 3G/HD-SDI and DVI-I rasterized outputs which allow detailed video and audio parameters be checked on a separate monitor in full 1920 x 1080 HD resolution.
The new LV7390SER20 4K upgrade allows the LV7390 to support 4K/UHD production and post. It includes 4K high-dynamic-range measurement capabilities for the ITU.BT.2100 Hybrid Log Gamma, Dolby PQ and Sony SLOG-3 protocols. This capability plus a compact 1 RU form-factor makes the LV7390 suitable for production environments that cannot accommodate a full size waveform monitor. Also included with the LV7390SER20 upgrade is Leader's CINEZONE HDR. This uses false color to display areas of the image extending into 4K HDR, so it can be used with non-HDR monitors.
The LV7390 can be configured by the operator to display waveform, vector, picture, audio and SDI status. Display of the levels of eight channels of embedded audio is standard. Display layout is customisable from a range of available settings including individual full screen or user-defined combinations. These settings can be configured from the front panel and saved for fast recall. 60 user-definable presets are accessible. The LV7390 can also be controlled using a USB mouse.
The LV5490SER07 HDR option for the LV5490 enables the monitor to measure both 4K and HD HDR in ITU.BT.2100 Hybrid Log Gamma, Dolby PQ and Sony SLOG-3 protocols.
The LV5490 offers 4K, UHD, 3G, HD and SD test and measurement features in a compact portable unit. Waveform, vector and picture display can all be viewed at the same time on the LV5490's 9 inch LCD monitor. The monitor is full 1920 x 1080 HD resolution with a wide viewing angle and high color reproduction. A 1920 x 1080 HD DVI and HD-SDI rasterized output is also provided to feed a larger monitor. Simultaneous viewing of up to four SDI inputs is possible, including overlays. The size and location of individual channels can be adjusted on the display using a USB mouse so the user is not limited to fixed-size quadrants. The LV5490 can also be controlled remotely using standard KVM tools. Additional features of the LV5490 include video frame capture, instrumentation screen capture, timecode display and ID display.
Pete Anderson, Director of Sales, commented: "We will be introducing new high-dynamic-range features for our LV5490 4K waveform monitor and LV7390 4K upgradeable rasterizer to SMPTE attendees. These will allow people in production to derive the full benefits of the latest-generation cameras operating in ultra-high-definition and high-dynamic-range. High-dynamic-range is expected be the next major innovation for broadcasting, ahead of the mainstream adoption of 4K ultra-high-definition.
"We will also be demonstrating our Leader LV5770A and LV5333 3G/HD/SD-SDI waveform monitors, LV5381 four-input HD/SD-SDI waveform monitor plus our LV7770 multi-SDI and LV7330 rasterizers. These are all compatible with high-definition and standard-definition signal formats currently used around the world."
www.leaderamerica.com
(JP/MH)
Top Related Stories
Click here for the latest broadcast news stories.