Broadcast News
04/08/2016
SMPTE Publish Busy IBC2016 Schedule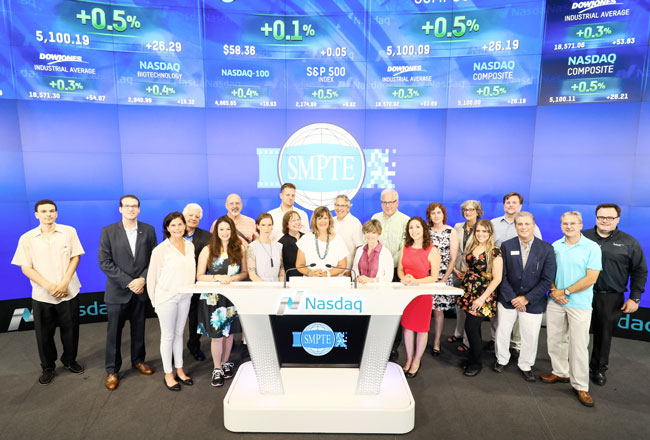 Throughout IBC2016, SMPTE will be available within the IBC Partnership Village, where the organisation will discuss current trends in the industry and answer questions regarding SMPTE activities, resources and publications as it continues its centennial celebrations.
The publications and resources include the latest SMPTE Standards Quarterly Report, while copies of the August 2016 special centennial edition of the SMPTE Motion Imaging Journal, plus the September 2016 Progress Report issue will be available. The next generation of SMPTE's Digital PROjection VErifier (DPROVE2) is now available; and the new SMPTE Special Edition Chroma Selfie Chart from DSC Labs will be available for evaluation on the SMPTE stand.
With regards to membership, SMPTE Director of Membership Roberta Gorman and Society officers will be at IBC2016 to discuss the benefits as well as the Society's role in international standards and interoperability. Prospective members will be able to join, and existing members may renew their memberships on-site.
SMPTE is one of six leading international bodies that serve as IBC partners, representing both exhibitors and visitors. In its role as an IBC partner, the Society provides insight that helps to ensure the annual convention is relevant and comprehensive. SMPTE also provides support to IBC's continued leadership as an international forum for content creation, management, and delivery.
At the show, the SMPTE Technical Session 'Studio Video Over IP: Implementation, Standards, and Software Defined Networks (SDN)' will be chaired by SMPTE's new Director of Engineering and Standards, Howard Lukk. The session will explore the current state of studio video over IP in the real world, review the development of critical standards and examine how to avoid a format war as the industry embraces video over IP.
SMPTE is again supporting Rising Stars. The programme provides new entrants to the broadcast industry with the opportunity to meet industry experts across a series of specially staged sessions and events. A complete list of sessions for the two-day programme can be found
here
.
Also at IBC2016, Richard Welsh, CEO at Sundog Media Toolkit and former SMPTE Governor for EMEA and the Central and South America Regions, will join SMPTE Members including Julian Pinn in speaking at the EDCF Global Update.
In another session, 'Exploring New Ideas in VR & 360° Immersive Media', SMPTE UK Section Chair Simon Gauntlett, Chief Technology Officer at the Digital TV Group, will present a paper on virtual reality and examine how the affordability of fast processors and high-resolution head-mounted displays are creating a market in 360-degree media in both video and 3D-captured VR environments.
Elsewhere, SMPTE Past President Peter Ludé, senior vice president of innovation at RealD, and SMPTE Member Jon Karafin, head of Light Field Video, will join SMPTE Fellow and SMPTE Governor for EMEA, Central and South America Region, Siegfried Foessel, head of the department Moving Picture Technologies at the Fraunhofer IIS, to discuss the growing prominence of light field cameras and displays in the past five years, and how the recent refinement of the technology allows images to be refocused, reframed, and viewed from any angle – similar to a hologram. Attendees will learn how light field imaging works and why it is so difficult.
Barbara Lange, SMPTE Executive Director, will moderate the 'New Era, New Skills in Broadcast Media' panel, chaired by Emma McGuigan, UK/I Accenture Technology managing director and the global delivery lead for Careers at Accenture. Lange will join David Atkins, technical director at Suitcase TV, and Naomi Climer, president of the Institution of Engineering and Technology (IET), in discussing how to attract the right people to the industry and how to retrain the teams that have served in the sector since the pre-information technology (IT) era.
SMPTE Member Michael Zink, vice president of technology at Warner Bros., will speak on high dynamic range (HDR) and wide colour gamut (WGC), along with panelists Bill Baggelaar, senior vice president of technology for production and postproduction at Sony Pictures Entertainment, and Curt Behlmer, senior vice president for content solutions and industry relations at Dolby Laboratories. The group will discuss the power of HDR as a creative story tool for directors, surpassing stereoscopic 3D and immersive audio.
Barbara H. Lange, Executive Director of SMPTE, said: "SMPTE celebrates its centennial this year, and we invite IBC2016 guests to join in the revelry and share a piece of birthday cake with us at our stand. The Society has accomplished a great deal in the past 100 years, and the past year has been remarkable for advancing our standards, education, and membership work. We look forward to showcasing these achievements – and our hopes and goals for the future of the motion-imaging field – in Amsterdam."
Image: SMPTE Celebrates Centennial at Nasdaq in New York City's Times Square.
www.smpte.org
(JP)
Top Related Stories
Click here for the latest broadcast news stories.