Broadcast News
28/06/2016
Elstree Studios Celebrate Sitcom Heaven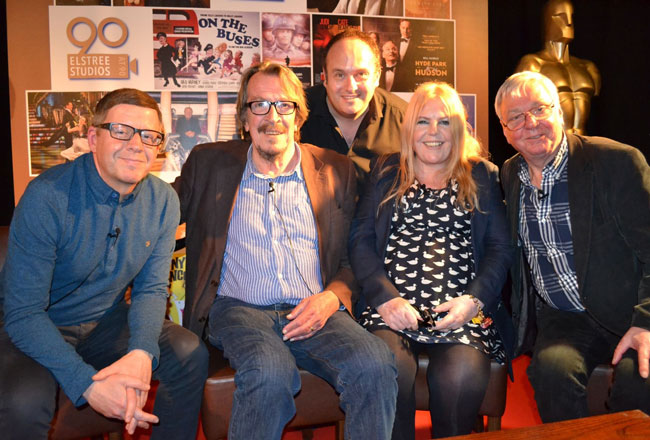 Elstree Studios has celebrated a successful 'Sitcom Heaven' event, starring some famous television stars of the 60s and 70s.
As part of the Studios' 90th year of celebrations, stars of Britain's big – and small – screen came together at the studios where they were filmed.
The event commenced with a locations bus tour for a tribute to sitcom On The Buses. All three of the comedy's films were made at Elstree Studios; in fact, the first movie was the highest grossing picture in the country in 1971 – even beating James Bond outing Diamonds Are Forever. Made for just £88,000, the On The Buses movie grossed £1 million in its first six weeks of release.
Following the tour, Elstree film historian, Paul Welsh, took to the stage for a Q&A session with guests including EastEnders' actress Anna Karen (who played Olive in On The Buses) and John Lyons (A Touch Of Frost). Almost 200 guests watched exclusive and previously unseen interviews with the show's late stars Reg Varney and Stephen Lewis.
In the evening, there was a tribute to comedies Man About the House, and George & Mildred, with special tributes made to the late Yootha Joyce. She died aged 53 shortly after the film was made at Elstree Studios in 1979.
Reunited on stage were Sally Thomsett (Jo in Man About The House), Norman Eshley (who appeared in both Man About The House, and in George & Mildred as Jeffrey Fourmile) and Nicholas Bond Owen (the young son Tristram), along with David Barry (Please Sir, The Fenn Street Gang and George & Mildred film.). Their Q&A was conducted by Elstree Chairman Morris Bright.
Both sessions included an auction of Elstree-related comedy memorabilia.
Speaking after the event, Morris Bright said: "It was wonderful to welcome so many familiar names of the past back to Elstree where the cinema versions of these big TV comedies were made, to reunite some of the actors and hear how much fun they had working on some of the great laughter making shows of the 1970s."
Image: Comedy stars Nicolas Bond Owen, Norman Eshley, Sally Thomsett and David Barry with Studios Chairman Morris Bright at Sitcom Heaven.
www.elstreestudios.co.uk
(JP)
Top Related Stories
Click here for the latest broadcast news stories.