Broadcast News
16/06/2016
BFV's Big Interview: Silentair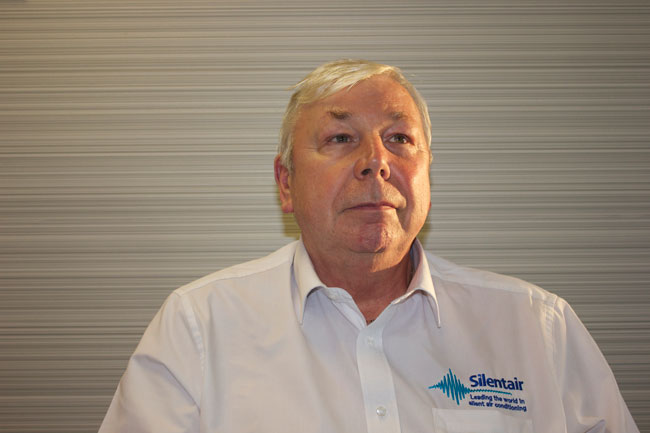 Better, quieter temperature control in studios had always been a requirement but until Silentair came along there just wasn't a lot of choice, says Phil Gillatt, Technical Director, Silentair...
BFV: Air conditioning, historically, would not have been top of the list with regards to studio design. Over the years, you have transformed AC systems into a stylish design feature. Can you briefly outline the changes along the way?
PG: Noisy commercial AC that needed to be turned off when the critical work was being done or huge space consuming ducts that virtually surrounded the studio soaking up all the premium space that could be used as studio space. Of course large ducts need large grills in the walls and these always heavily impacted on the aesthetics of the studio.
So when we introduced the Serenity system into the trade we were met with disbelieving looks and still are sometimes even today; they just don't believe our operating noise levels are NR15 and below. The completely different concept of Serenity eliminated virtually every negative point of the other systems: operational noise levels so low that the AC could be left running whenever any sound critical work was needed. For the first time draughts were totally eliminated and because the fan coil was in the room, sound integrity of the studio was maintained with just a 75mm hole required.
Energy usage is a big factor these days, how does Silentair rate in this area?
Practically, Serenity ticks a lot of boxes but one of the hidden benefits is energy saving. Generally our systems are smaller because we only cool the air inside the studio, not circulate it to the outside through ducting. The close temperature control means the system works less hard and for less time – the result is 15% to 20% energy saving.
When visiting the Silentair Stand at many shows and exhibitions over the years, the welcome is open, genuine and there is a real willingness to help potential clients come up with the right answers to solve issues they may be having with their studio or workplace. Old-style customer service, combined with the latest breaking technology seems to work well. Do you feel customer relationship has been a important part of your success?
When we entered this industry it was quite obvious that there was a lot of mystery centering around studio AC – what could be done and what should be done? Questions that somehow never got answered. I thought we might try to educate as well as improve. So right from the beginning we wanted to help people to understand how AC works and what the options are, particularly sound levels. It seems unbelievable that when expensive AC is installed in a brand new studio there is no mention of the operational sound levels; if you're lucky, a general reference like, 'We will try to get it as low as possible' is the best you are going to get. So that's why we fill in as much background as we can using our 100 years plus experience to come up with the best solution.
We even opened a help desk at the last BVE where anyone could come up and ask us anything about AC and Ventilation, without commitment, absolutely free. They didn't even have to give their name. We had some very interesting chats. I also write a few words every month in this publication about specific aspects of AC that help people find out more about AC and how to use it.
Mobile units are becoming popular, have you noticed an increase in the hire side of things?
Four years ago we developed a range of mobile air condition units which operated at extremely low noise levels. They consisted of two parts joined together with flexible hoses; the idea being that the noisy outdoor unit is so far away it cannot be heard and the indoor unit is naturally very quiet also. Over the years hiring these units have become more and more popular as they are a quick fix for hot sets or for cooling tents quietly and I can see this part of the business steadily growing over time.
Have you many clients outside of the UK and would you see this as a growth market?
We sell our products abroad, the farthest away being Singapore, but most of our sales are into Europe. We have a very good agent in Amsterdam who coincidentally is one of the top five studio designers throughout Europe. In fact, we have just been selected to provide the AC for a new Red Bull studio in Amsterdam.
Serenity sells very well in Europe particularly in post production studios, small theatres and cinema rooms and we intend to launch our full product range in the US early next year. We have already been approached by CNN and Fox for their live news studios. To help us in this expansion we have recently brought on board a young man called Rogers who is in charge of promoting Silentair around the world including China by using all aspects of social media. As a result there is a lot of interest far and wide.
It's obvious that Silentair is more than just a job to you; you have a passion for invention and are constantly coming up with the next idea...
I applied for my first patent 47 years ago and 20 'Patent Applied Fors' later I am still doing it, so I guess I have always preferred to explore alternative ways of making things better, easier, cheaper, etc. rather than just following the crowd doing things that have always been done like that. Or perhaps I have an idea that will solve a particular problem so I have to create the solution from scratch; this takes a little longer to finish but is very satisfying for me. I expect I will continue to explore new ways for a good few years yet.
With regards to work, what would you consider has been your best achievement so far?
Personally my best achievement was developing the Serenity system, which broke so many rules of air conditioning and still delivered the goods, confounding most of the people I knew in the AC industry, who, almost to a man, said I would never do it and not to waste my time. Company wise; Al Jazeera has to be the highest profile project and a real challenge to put everything into three-metre high rooms without compromising the noise levels. We were very surprised to be chosen for this job and they were extremely happy about the support we provided and the low operating noise levels achieved.
What does the future hold for Phil Gillatt and Silentair?
I expect to carry on a little while longer and say another five years and would like to develop a number of different air conditioning projects. My pet one at the moment is a completely new concept in AC as I believe people are fed up with the same old beige ceiling cassettes, or beige fan coils of any shape really. So I am working on some really radical AC designs, which are fully functioning, air condition systems but don't look like traditional AC in any way.
www.silentair.co.uk
This article is also available to read at BFV online here, page 5.
(JP/LM)
Top Related Stories
Click here for the latest broadcast news stories.