Broadcast News
27/04/2016
LiveU BroadcastAsia2016 Preview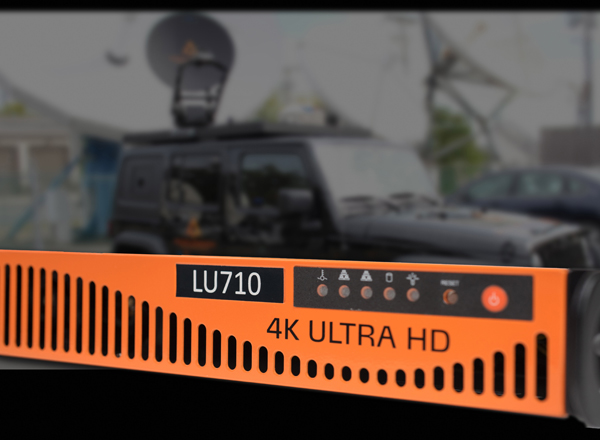 Ahead of BroadcastAsia2016 LiveU has announced a number of previews, including its full range of live video acquisition, management and distribution solutions over IP and latest additions to its portfolio.
LiveU's New LU710 4K Encoder
LiveU will showcase its next-generation LU710 4K/p60 rack-mountable 1U encoder.
Combined with the Xtender transmission device (LiveU's external antenna with six modems, delivering video rates of up to 40 Mbps) and LiveU's enhanced server with 4K output, the LU710 encoder transforms any SNG truck into a fully mobile hybrid cellular/satellite solution for transmitting 4K/HD video with improved efficiency.
Delivering superior video performance, the LU710 is fully integrated in the LiveU ecosystem via the LiveU Central browser-based management platform
APAC Debut of LiveU Solo
LiveU will demonstrate its new plug-and-play live streaming bonded solution for the online media market, LiveU Solo.
LiveU Solo allows users to live-stream seamlessly into any web streaming workflow by connecting automatically to popular content delivery networks such as Facebook, YouTube Live and Wowza Streaming Cloud. Solo is simple to manage and control remotely via a web interface or smart device.
Also on show
• LiveU's award-winning LU500 portable transmission unit. Weighing around 1 kg (2.2 lbs), LiveU's LU500 offers the ultimate combination of high performance and portability
• LU200 ultra-small portable transmission unit and LU200e, the most cost-effective video encoder on the market, enabling streaming for web distribution, point to point, and point to multi-point for a fraction of the cost of other solutions
• LiveU Central, cloud-based management and video distribution system, enabling fleets of units to be centrally controlled using geo-location capabilities
• LiveU's new, enhanced version of MultiPoint, internal and cross-organizational professional video distribution service, enabling the sharing of high-quality live video between multiple broadcast facilities over the public Internet
• LU-Smart mobile app, bringing bonded transmission to mobile phones & tablets.
liveu.tv
Top Related Stories
Click here for the latest broadcast news stories.