Broadcast News
30/11/2015
Mr Garrett Brown Gives Moving Image Presentation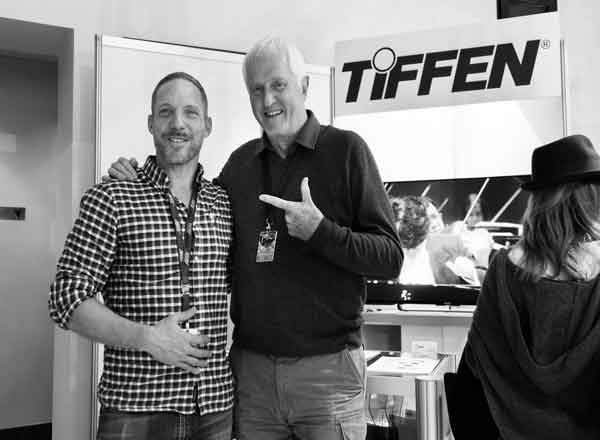 Mr Garrett Brown has given his Moving Image presentation at the recent Camerimage Festival in Bydgoszcz, Poland.
"I was worried about getting an audience since the 'Muhammad' screening started halfway through my talk, but it was packed, with traffic-stopping jams around monitors in the corridors and lounges too. Amazing - it went very well," said Garrett.
As well as inventing Steadicam Brown also used it to great effect in close to a hundred movies from 1975 onwards and holds over 50 patents for other camera devices. He is now retired from shooting but continues to invent and is kept busy lecturing and teaching at global Tiffen Steadicam workshops, which he enjoys immensely.
Noted German Steadicam operator Max Zaher, who has been using the new top of the range Steadicam M-1 on a variety of international shoots since receiving the first M-1 on launch last summer, travelled to Camerimage to meet Garrett. "That was an opportunity I could not miss"," said Max. "I am making my name now with Steadicam and this was a chance to meet the maker, a long-time ambition for me."
Max had originally been a focus puller working on many movies with the renowned German camera and Steadicam operator Klemens Becker. Max became very skilled at setting up the rig for Klemens, and when Max actually used the rig in front of him Klemens recognised his talent immediately and began his training.
"Klemens let me use his Steadicam 3a at first, then I started to use rental rigs and got to try almost every existing model. Finally I decided to invest in my own rig. The financial and logistical aspects of renting don't make sense when you work a lot, not to mention having to adapt to the different models.
"Shooting has changed and now nobody wants to wait. Setup has to be fast and solid and the M-1 can do this. I can quickly balance and change modes and I love that it's all tool free, including the G70x arm, and also that it's designed to be easily updated in the future. It was a big investment but exactly the right choice. It's easy to maintain static and dynamic balance in either high mode or low mode, and to switch back and forth is a matter of minutes, which frees me to concentrate on the real job of shooting. It buys me a lot of time and concentration for the actual filmmaking - the shot, the drama."
www.garrettcam.com
Photo supplied by Tiffen International
Top Related Stories
Click here for the latest broadcast news stories.