Broadcast News
19/11/2015
Aurora Lighting Hire For One Direction Show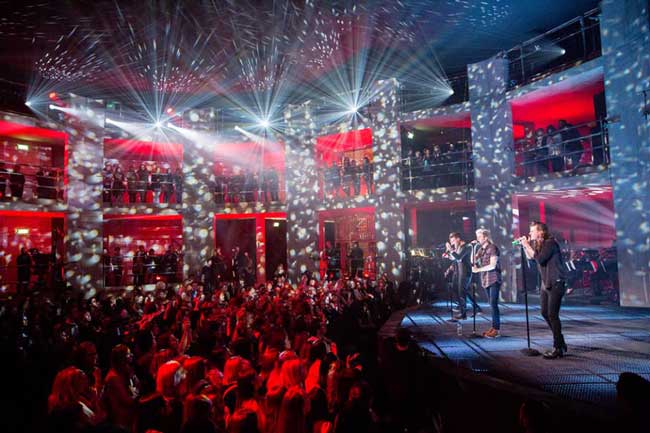 Aurora Lighting Hire's Lighting Director Oli Richards has helped to deliver One Direction's recent London Session with Apple Music.
Recorded in front of a live audience, the band interview and performance took place in the semi-industrial surroundings of the Collins Music Hall, London, and was scheduled to tie in with the release of the group's new album, Made In The A.M.
Tasked with creating an installation that needed to compliment the venue and handle the differing onstage environments of 'interview' and 'live event', Richards selected a range of automated heads that could keep the action looking lively, while also providing dramatic colour washes and effects across the backdrop.
Martin Mac Auras and Viper Performances were mixed with Quantum Wash and Stagebars to deliver intense, precise colour throughout the venue and stage. The Viper Performances were loaded with custom gobos to project 1D album artwork and track listings, bringing to life the unfinished concrete surfaces circling the interior of the hall.
Clay Paky Mythos and ETC Source Four Revolutions were on board for their spot abilities, while Clay Paky Stormy CC were added to deliver strobe effects. Elsewhere in the venue, a number of GDS Liteware HO fixtures provided their deep colour wash to walls throughout the offstage areas including an 'art installation' and VIP bar.
Richards worked alongside Gaffer Tony Fagan, Moving Light Op Alex Pocock and Conventional Op Theo Cox on the project,
Aurora Lighting Hire provided all equipment and crew to the Fulwell 73 produced event, which is available to view now via Apple Music.
www.auroratv.co.uk
(JP)
Top Related Stories
Click here for the latest broadcast news stories.