Broadcast News
12/10/2015
Infront, Vizrt Unite For Sports Project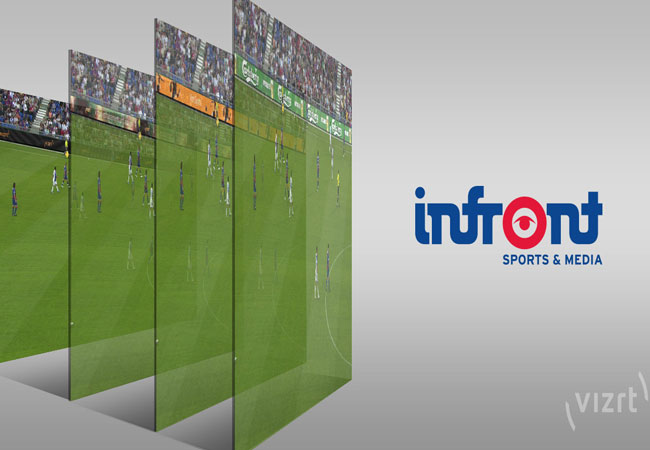 Infront Sports & Media has joined forces with Vizrt launch a virtual overlay solution, expected for the 2016/17 season.
The Viz Eclipse product will be exclusively distributed by Infront as part of its sports services portfolio, enabling rights holders to regionally tailor and streamline their marketing and commercialisation of sports events on a global basis. The solution is still in a testing phase, but a preview will be demonstrated at Sportel, in Monaco, today by Infront and Vizrt.
Vizrt introduced Viz Eclipse at IBC2015. It is a virtual replacement technology that allows field-side advertising boards to be virtually overlaid with unobtrusive, and region-specific, advertising into television feeds of sports events, substituting traditional perimeter advertising. The solution doesn't require any physical camera or board installations onsite, and works on both static or LED boards.
Infront, with experience in media production and advertising technology, will support Vizrt in further developing and refining the technology. Both companies will offer rights holders a virtual overlay solution that provides a reliable, high-quality performance.
Working with 170 rights holders in sport, as well as hundreds of sponsors and media companies, Infront will contribute market insight and sports marketing knowledge to the partnership. It will also provide access to testing environments and leverage its proximity to rights holders, sponsors, broadcasters and media production entities. Vizrt will bring its technical capabilities and production knowledge to further drive the engineering process of its in-house product.
Philippe Blatter, President & CEO of Infront, said: "We have been monitoring the development of virtual overlay technology for many years to ensure we can provide our clients with an effective solution, once technological progress meets their high quality standards. Viz Eclipse is a ground-breaking move forward and we are ready to invest in the refinement of the product. Jointly with Vizrt, we will soon bring a perfected and fully reliable solution to the market, which will allow rights holders to monetise their events on a global basis. Viz Eclipse will open up a new era of sports advertising."
Martin Burkhalter, CEO of Vizrt, added: "Infront has proven its foresightedness in the area of sports advertising and production already in the past and we are glad to partner with a company that is so close to the needs and expectations of the sports industry. Our technology is now ready for the next level and we are convinced that it will transform the marketing capabilities of modern sport. While the initial focus will be on pitch-side advertising in football, this technology has the potential to revolutionise the marketing of many sports disciplines in the long run."
To date, Viz Eclipse has been tested with licensed footage from national and international football matches, and will soon enter a live-testing phase. Infront and Vizrt expect market entry throughout the 2016/17 season. The solution works on multi-colour backgrounds such as LED and static boards, while rendering filters allow for seamless blending of virtual signage with the stadium's environmental conditions.
www.vizrt.com
(JP)
Top Related Stories
Click here for the latest broadcast news stories.