Broadcast News
02/09/2015
MotoGP For Ultra HD Live Coverage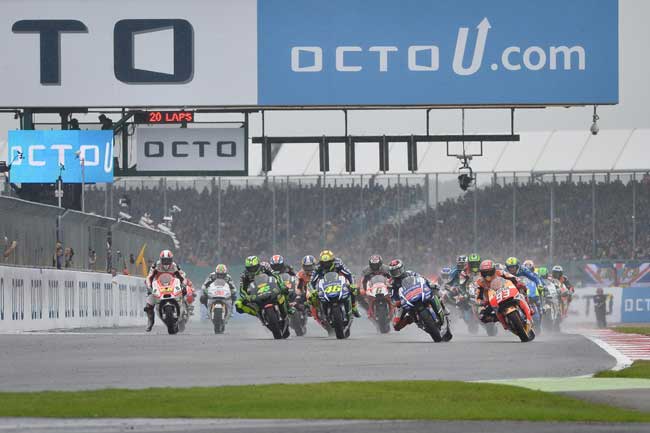 Dorna Sports, in conjunction with BT Sport, has broadcast the Octo British Grand Prix in Ultra High Definition (4K).
Dorna Sports and BT Sport, the UK broadcasting partner of MotoGP, produced live coverage of the event at Silverstone last weekend in Ultra High Definition.
This was the first time a MotoGP World Championship event was covered live in Ultra HD and viewers of the BT Sport UHD channel were able to watch Qualifying on Saturday and the Races on Sunday in the new 4K high definition format. A total of 19 UHD cameras covered the Silverstone circuit, including a High Speed, Super Slow Motion Camera and the world's first live wireless 4K cameras, provided by Vislink.
Dorna Sports continue to produce the International Programme Feed in High Definition for all worldwide broadcasters. Last weekend at Silverstone, there were more than 140 HD live cameras at the circuit, allowing for coverage from every angle. The addition of the Ultra HD cameras brought the total number of live cameras to 160, the largest amount ever seen at a MotoGP event.
Ashley Jackson, Vislink's CTO, said: "Vislink has a strong heritage in sports broadcast. Working with Dorna Sports and BT Sport to deliver a world-first for 4K live transmission is another exciting chapter in the company's history, and the team has worked incredibly hard to develop the UltraCoder system to make this a reality. Our 4K encoding technology has played a pivotal role in strengthening our relationship with Dorna Sports and BT Sport, and the results we've seen from the event have far exceeded expectations."
Jamie Hindhaugh, Chief Operations Officer, BT Sport, said: "We are very pleased to be working with Dorna and to be the first MotoGP broadcaster in the world to bring our customers coverage of the event in Ultra High Definition. Through our UHD channel, we will provide a viewing experience that is as close as possible to being trackside at Silverstone. We've received a very positive reaction to the 4K coverage from our customers and we are excited that the MotoGP round at Silverstone will be the fifth live event that we are able to offer on our newly launched BT Sport UHD channel."
Manel Arroyo, Managing Director, TV & Media Area, Dorna Sports, said: "We are really pleased that we have reached a stage where the BT Sport and Dorna production teams are working together to deliver full coverage of the GP in this new format. BT Sport is the first broadcasting partner to take advantage of 4K and Dorna Sports is excited to continue developing our Ultra High Definition offerings as more partners around the world adopt this format. We have been working with our technology partners involved in the Championship to trial 4K during the past couple of seasons. Silverstone will be a milestone event for motorsport and for MotoGP in particular, with the largest number of cameras ever seen at a GP!"
www.vislink.com
(JP)
Top Related Stories
Click here for the latest broadcast news stories.