Broadcast News
06/10/2014
I-MOVIX X10 UHD Captures World 4K First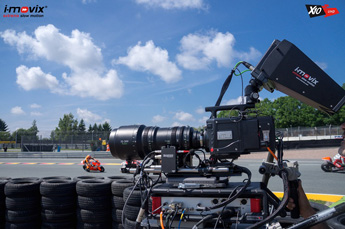 I-MOVIX's X10 UHD has been used by Dorna Sports for the world's first 4K continuous continuous super motion coverage at the eni Motorrad Grand Prix in Germany.
As exclusive MotoGP television rights holder, Dorna Sports used an X10 UHD system in 4K high speed modes at 500, 750 and 1,000 fps, and in 4K, 2x super slow motion, delivering a continuous 2160p feed at 100 fps. Dorna Sports also pioneered continuous 10x super slow motion in 1080 HD at 500fps.
The I-MOVIX X10 UHD system was tested in two configurations: with the new FUJINON's 4K Cine lens, Premier PL 25-300mm Cabrio Cine Zoom (ZK12x25) and with an XA99x8.4 BESM big box lens and IBE HDx35 adapter. The Austrian cmotion provided lens motorisation with its new broadcast camin system, and EVS supplied its XT3 production server and Epsio Zoom solution.
"The image quality of the high frame-rate 4K shots was astonishing and a real breakthrough. High frame-rate 4K footage provides image detail and sharpness you can't get any other way, and it's clearly a must for capturing new levels of detail in fast-moving sports action such as motorcycle racing," said Manel Arroyo, Managing Director at Dorna Sports S.L. "With the continuous 10x super slow motion mode in HD at 500fps, the availability of every second of coverage for high-quality super slow motion instant replay opens up lots of new potential for analysis and insight."
"This was a particularly exciting event not only because it marked two broadcast firsts, but also because Dorna Sports really explored a lot of the creative potential of 4K and HD ultra slow motion in a range of different ways," said Laurent Renard, CEO of I-MOVIX. "The gorgeous and dramatic images the X10 UHD produces can be used to bring unprecedented richness and sophistication to live sports production."
The Dorna Sports production team tested X10 UHD, combined with an EVS XT3 server and the EVS Epsio zoom solution to explore another way to use 4K ultra motion in both high frame-rate and continuous modes. Zooming in 4K was used to show very close details on the bikes, or reframe when a crash happened.
The X10 UHD is the industry's first 4K ultra-slow motion system to support both continuous super slow motion (SSM) and ultra slow motion (USM) at frame rates of up to 1000fps.
The system operates in USM mode to deliver instant replays of up to 1,000fps. For continuous non-stop recording, SSM mode delivers up to 120fps at 2160p60. When operating in HD resolutions (1080p or 1080i) X10 UHD offers up to 600fps in continuous SSM mode, and up to 2,000fps in USM mode. The system can also complement these specialised applications by performing in a conventional live camera role.
www.i-movix.com
(IT/JP)
Top Related Stories
Click here for the latest broadcast news stories.