Broadcast News
08/07/2015
Audinate Installed For Coachella Experience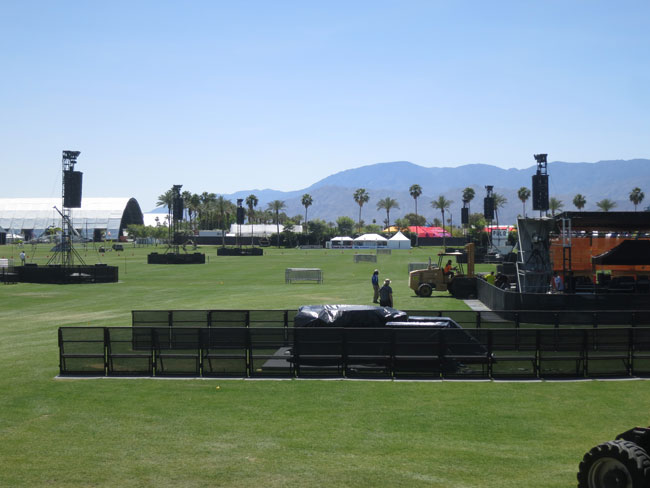 Rat Sound integrated a Dante audio network from Audinate at this year's Coachella Valley Music and Arts Festival and consequent Stagecoach festival.
Faced with covering areas of roughly 750 x 1200 feet, Rat Sound simplified the installation by installing a Dante network to ensure reliable carriage of high-quality audio across 21 delay positions. The annual festival featured over 200 artists and attracts several hundred thousand fans to the desert climate of Indio, California over two subsequent weekends every April.
For Coachella, the 21 delay positions were divided between the main Coachella festival stage and the nearby Outdoor Theatre Stage, with Dante-enabled Yamaha digital mixing engines and Lake LM44 digital audio processors supporting the digital audio architecture. The network delivered three channels of audio – left, right and VIP – over Cat5 cable, which the Rat Sound team terminated onsite to simplify the overall cabling infrastructure between various sound towers.
According to Tom Worley, full-time systems engineer and front-of-house technician for Coachella, Rat Sound has used Dante for three-years running. He said: "As an Audio over IP solution, Dante is easily the most cost-effective and efficient way to deliver audio to more than 100,000 festival goers. Dante is also the best choice to carry the audio given the distances between delay positions. And as the stages are so close together, with Dante we can ensure that the delay systems aren't affecting other audience areas throughout the festival grounds."
The Rat Sound configuration included festival and guest consoles, each matrixed at front of house via two Yamaha DME64N digital mixing engines. The DME64Ns routed AES, analog and Dante outputs to more than 24 destinations, while integrated MY16-AUD Dante cards generated the primary and secondary audio path for optimal redundancy. Rat Sound added an off-the-shelf, managed switch at the center of each delay ring to network the Dante audio and amplifier control system. The Lake LM44 processor converted the Dante audio to AES for delivery to the delay amplifiers, with a daisy-chained architecture between all delay rings and additional destination points.
"We were able to install all the delays and infrastructure in a single day, which left us with valuable time to time-align and fine-tune the delays network-wide," added Worley. "And while it was a static configuration for both festivals, we had the ability to quickly configure stereo delays using Dante per one band's request. The flexibility of being able to route audio anywhere in the network gives us greater control of the festival site.
"But one of the great advantages for us using Dante is the quality of audio and headroom available on the network. Dante helps us achieve very clean, low-latency audio right into the amplifiers. And it gives us the flexibility and redundancy that we need for one of the world's biggest festivals."
www.audinate.com
www.ratsound.com
(JP)
Top Related Stories
Click here for the latest broadcast news stories.