Broadcast News
31/10/2017
Firehouse Productions Sets Live Sound Ablaze With Dante Audio-Over-IP Networking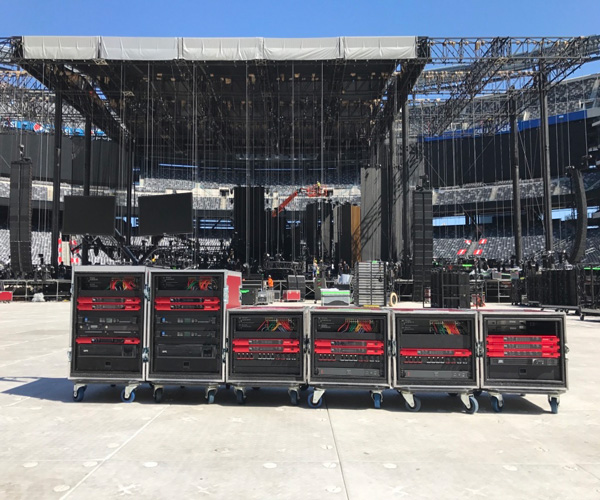 As a sound production company specialising in live events, Firehouse Productions is regularly entrusted with the design, operation and management of complex audio network infrastructures for concerts, TV shows and special events.

As more venues and facilities gradually transition from legacy analog systems to the network, Firehouse Productions has found significant value in the excellent sound quality, quick deployment and low total cost of ownership of Audinate's Dante audio-over-IP networking.

Over the years, the fast-growing company has provided sound production systems and support services to major rock concert tours by Coldplay, Radiohead, Hall & Oates, Florence and The Machine, Tears for Fears, Nine Inch Nails, Lorde, Peter Gabriel, Sting and David Gray, among other A-listers. Their technicians are also integrally involved with sound production for special live events, such as the 2017 International Indian Film Festival, which was held in mid-July at the MetLife Stadium as well as live events for corporations including Mac''s, Apple, Microsoft, Amazon, Biogen and Wyndham.

In television, the company has played a key role in producing audio for live broadcasts, such as The Tony Awards, NBC's TheWiz and Peter Pan, The Daily Show, In Performance at the White House, the iHeart Music Festival and Global Citizen Festival.

"Whether they take place in a stadium or a studio, these events all have one thing in common—they are live. There are no do-overs to get them right," said Luis Espinal, Senior RF/PL Technician for Firehouse Productions. "As we move toward more networked architectures, Dante brings the reliability, routing flexibility and capacity we need to do it right the first time."

In essence, Firehouse Productions' mission is to pick up sound from 'Point A' to deliver it to 'Point B'. But considering how complex and multi-layered today's audio network architecture has become Espinal found it challenging to deal with the growing array of snakes and cables, connectors, amp racks, audio protocols and other systems that have to interface together.

"Given the complexity of today's networked live sound infrastructures, it's not enough to just bring in trusted brands of legacy audio gear," said Espinal. "If the third-party audio devices don't network together seamlessly, with uncompromised quality, low latency and spot-on timing, even the slightest glitch could detract from the viewer experience. Dante solves these problems, andnow serves as the backbone of our service. With Dante, we can customize networks of third-party audio gear to meet the demands of even the most ambitious live events."

At the heart of Firehouse Productions' Dante networking solution are several Yamaha mixing consoles, including the MP10, CL5 and Q1; a Lab.gruppen Lake LM44 digital audio system processor; and several Focusrite RedNet I/O interfaces for conversions between Dante and MADI or AES10 environments. All Dante audio traffic, data, control and other functions are natively supported over a Cisco SG550X-24P Layer 3 Switch configured within multiple VLANs. Espinal also points to the value of Dante Virtual Soundcard to record and process multichannel audio from laptops.

"For a very advanced show, we need an integrated solution that's manageable from end to end from a single interface," Espinal said. "Dante is the only solution I've found that makes it easy to integrate so many third-party audio devices together. At every event, we can count on Dante to save us hours of work that were previously spent running cables and setting up patch panels. It's smart enough to acknowledge devices or systems as they're added to the network, and to automatically failover to theredundant path when a technical issue arises that could derail the show."

Dante is an Ethernet-based, bi-directional network solution, it's easy and logical to set-up a number of signal pathscompared to the traditional method of running and patching cables between various points.
Top Related Stories
Click here for the latest broadcast news stories.