Broadcast News
18/06/2015
LiveU App For Marathon Coverage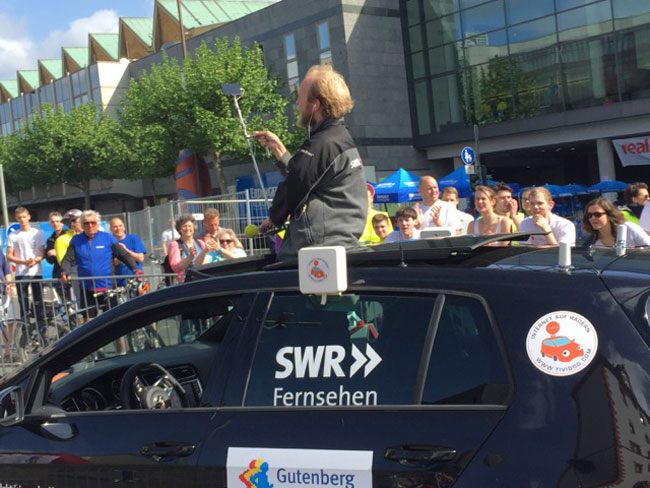 LiveU's LU-Smart smartphone bonding app was once again selected to provide coverage of the recent Mainz Gutenberg marathon, following its debut at the 2013 event. In combination with broadcast cameras, production company Tividoo provided increased online and broadcast-quality coverage of the event.
Held in the German town along the banks of the Rhine, the marathon was again covered by regional public broadcaster SWR live online and with a roundup show on SWR TV Sport. Production company Tividoo worked in conjunction with OB provider Simon Media to capture and deliver the enhanced coverage. The iPhone 5 with LU-Smart allowed footage to be captured in a moving vehicle especially tailored for the event by Tividoo, using a unit to hold the phone steady. This allowed the race to be followed as it moved through the city. A second LU-Smart was used for redundancy.
The iPhone used 3G/4G connectivity bonded with Wi-Fi in the car – provided by a multichannel VPN router – as well as additional SIMs in the router. The LiveU server received the feed in the stationary OB unit where it was vision mixed with signals from four other cameras, including broadcast units. In order to overcome fixed line difficulties, the final signal was also uplinked using a combination of cellular and Ka-Sat connectivity.
Tobias Gramm, Managing Director of Tividoo, said: "We were in charge of the technical planning along with SWR Sport Editorial this year for the expanded coverage. We wanted to be able to provide truly dynamic footage as cost-effectively as possible and to give a real sense of the movement of the runners in the race. Using LiveU's LU-Smart allowed us to do that; it really is remarkable technology. We know that SWR was very happy overall with the quality of our expanded production."
Zion Eilam, Head of Business Operations Europe, LiveU, added: "This is another clear example of the flexibility of our platform, with Tividoo able to select the precise tool for the production. The LU-Smart is designed to allow bringing unique viewpoints to viewers and has proved itself popular in the both the sports and news markets."
www.liveu.tv
(JP/MH)
Top Related Stories
Click here for the latest broadcast news stories.