Broadcast News
13/07/2016
LiveU Deployed For UEFA Euro 2016 Coverage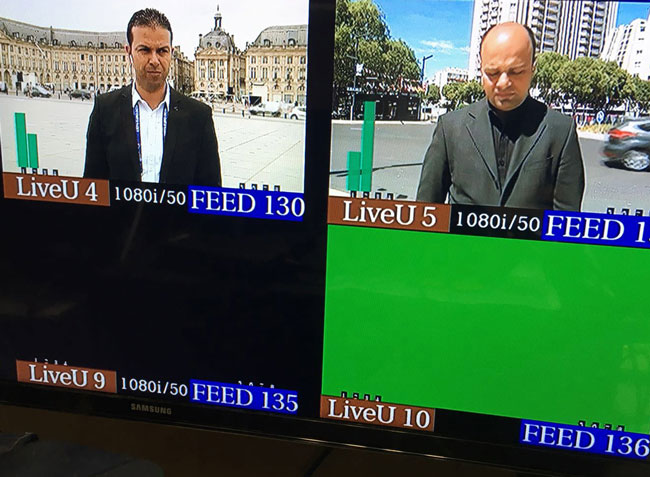 LiveU has announced that its technology has been used to provide coverage of the recent UEFA Euro 2016 tournament for a number of major broadcasters, including ITV Sport and beIN Sport, the latter via production company Medialuso, part of the Spanish Mediapro Group.
ITV Sport was the joint rights holders in the UK, along with the BBC, and split the live coverage of games with both covering the final. The broadcaster covered 51 games during the month-long competition around France from a studio in Paris. UEFA supplied 13 feeds from each game as the host broadcaster as well as around 30 crews also feeding back to the IBC in Paris. ITV Sport had a crew following the England team, equipped with a LU500 portable transmission unit, and another crew that followed the other UK teams as well as the Republic of Ireland. They were also equipped with a LU500. In addition, the broadcaster had unlimited LU-Smart smartphone licences using the LiveU GoPlan data plan package.
Spanish production company Medialuso covered the event for beIN Sport with LiveU servers installed at beIN France and beIN HQ in Doha. Medialuso utilised 22 LiveU units from across the company's portfolio, bringing together coverage from all the French cities that hosted games and were the main headquarters of national teams. On average, they produced over 70 live feeds per day and for the final game they used 16 LiveU units sending feeds in parallel. Three of these were from motorcycles following the national teams of France and Portugal and also the match officials.
Roger Pearce, Technical Director, Sport, ITV Sport Productions, said: "LiveU was part of our armoury to ensure material could be received quickly to be edited as soon as possible. It was also a useful tool to report live, if required. It's great for standups and other interview-style footage that enhanced our coverage. We had used LiveU successfully for the 2014 FIFA World Cup in Brazil and purchased a server for our London hub. We were very happy with the support we received for our reporters as they had to pick up the LiveU technology and learn it quickly. Sports coverage is about being there and making the viewer feel part of the game and to do that getting material live or very quickly without much planning is essential."
Ronen Artman, VP of Marketing at LiveU, added: "We have a very strong lineage in enhancing sports coverage since our first use at the Beijing Olympics in 2008. We're excited to see usage continue to expand with broadcasters able to think differently now and to bring far more varied content from the field to create a more rounded and immersive viewer experience."
The ITV Sport deal was overseen by LiveU's UK partner Garland Partners Ltd.
Park 7 Tecnología in Spain worked with Medialuso.
Image: Spanish production company Medialuso used 22 LiveU units for enhanced coverage of UEFA Euro 2016 for beIN Sport.
www.liveu.tv
(JP/MH)
Top Related Stories
Click here for the latest broadcast news stories.