Broadcast News
17/04/2015
Shure Microphones Supplied To HTB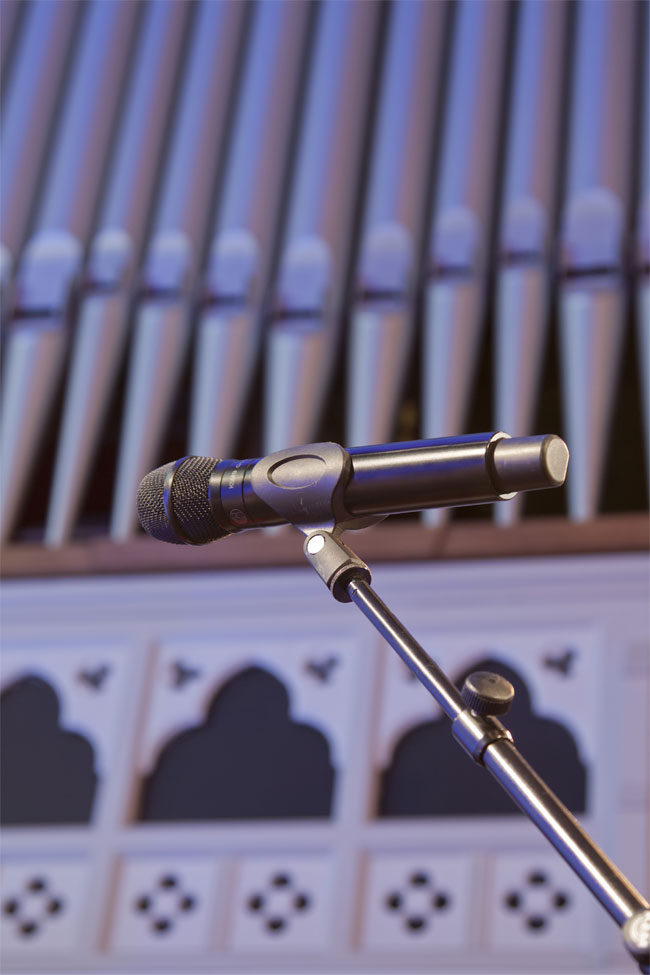 SFL Group is supplying Shure wireless microphone and in-ear monitoring systems to the HTB family of churches based at Holy Trinity Brompton, south-west London, as part of a programme of upgrades to the wireless microphone and in-ear systems at the churches.
Holy Trinity Brompton Road is the home of Alpha and the Worship Central movement. The churches also host musical events in the average week, involving only choirs, organ and traditional ecclesiastical instrumentation, as well as rock ensembles with electric guitar and bass, electronic keyboards and lead vocalists with backing singers. Holy Trinity Brompton Road has therefore been using wireless microphone systems since a large-scale refurbishment in 2006, and the systems have gradually spread to the other churches in the group.
Four churches, including St Jude's in Courtfield Gardens, South Kensington, have all been refurbished in recent years. SFL Group have been working with HTB for over a decade. Initially, they helped out with live hire kit for outdoor musical events, and then became involved in the project to regenerate the main church and its AV infrastructure at Brompton Road in 2006. Since then, they have supplied advice and equipment when the other three sites in the group – Onslow Square, Queen's Gate, and Courtfield Gardens – were renovated in the years since.
"HTB used a mixture of wireless systems over the years," explains Tim Horton of SFL Group, "but whenever they did live events, they used the Shure PSM900 in-ears and UHF-R wireless mics from our hire stock, and grew to like it. When they upgraded their wireless kit in 2010 following the digital dividend, they brought their first PSM900 in-ear systems for Holy Trinity Brompton Road and Onslow Square, and they were going to buy UHF-R mics to mirror our systems – but Shure were talking about bringing out ULX-D at the time, so they waited. They were early adopters of ULX-D at Brompton Road, putting in four channels when it was released."
"The RF mics at Brompton Road are now entirely ULX-D, with the exception of one mic," adds HTB Production Coordinator Josh Fountain.
"Last year, we supplied HTB another four channels for Onslow Road," continues Tim Horton. "Together with Shure Distribution, we're currently looking at putting in Shure PlusChannels to control the wireless systems from iPads and iPhones, and supplying another set of ULX-D systems in this long-term installation."
"For the moment, we've moved the older wireless systems from Onslow Square and Brompton Road to our other sites, but as budget allows, we are going to replace everything with ULX-D and PSM900 systems," explains Craig Watson, HTB's former Head of Production.
"The average event at HTB involves some music and discussion on stage," continues Tim Horton. "If the vocalists and the guitar players are using wireless, they can just pick up their mic stands or instruments when they've finished playing and clear the stage for the next part of the event really quickly. They've found that very useful. The systems are also very resistant to RF interference, and that's very important in this part of South-West London, which is very crowded in RF terms."
Josh Fountain of HTB added: "The thing I really appreciate about ULX-D is that it's basically impervious to RF noise. We used to struggle a lot with interference in the area making noise on our wireless channels, but with ULX-D it's clean and clear. We actually had a mistake the other day where someone accidentally tuned a nearby radio mic to the same frequency as one of our main church mics — but there were no loud bangs or noise on the channel."
"We're very proud to be involved with HTB at so many of their sites," comments John Ellis of Shure Distribution UK. "ULX-D is really put through its paces each week at HTB, because of the large role music plays there – less well-specified wireless systems would definitely struggle. We're delighted that the ULX-D systems are continuing to work well for them, and look forward to working closely with them on the refurbishment of their remaining sites."
www.shuredistribution.co.uk
(JP/MH)
Top Related Stories
Click here for the latest broadcast news stories.