Broadcast News
19/02/2015
Blackmagic's URSA – Blurring The Lines Between Broadcast And Cinema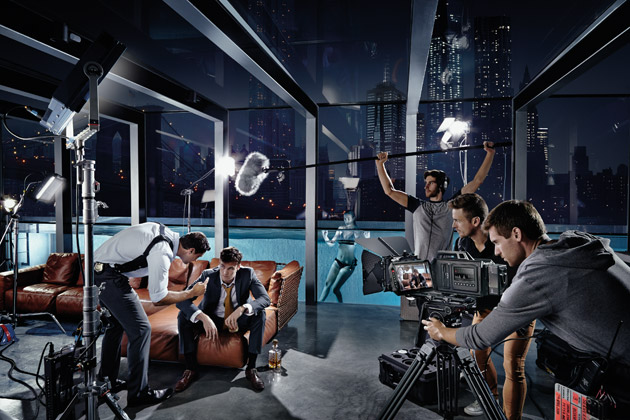 I fondly remember the day when the Blackmagic URSA was announced – it was day one of NAB 2014. Sadly I couldn't be in Vegas so I was glued to Twitter that day, trying to keep abreast of what new products were being announced. By Liam Laminman, Managing Director, Trickbox TV.
Then I saw it – the first press image of the URSA camera! My mind was racing; what does this mean? What can it do? What does URSA mean? Is that Russian?! I quickly read up on the specs and was instantly impressed. Then I checked the price. And then doubled checked... I was in amazement. A 4K camera, with a super 35mm sensor, with interchangeable lens mounts – including a broadcast B4 mount... and it's under £4,300. Unbelievable.
I'm normally quite considered when it comes to investing in new kit for Trickbox TV. I spend a long time researching and making sure that not only is it a financially wise investment, but that on a technical level, it will do what we and our clients need it to do.
When I saw the URSA, I must admit I was a little reckless in my decision to buy one immediately. I just thought – we have to have one.
I don't want to get too deep and philosophical – this is only a camera we're talking about here – but it felt like it was more than just a camera. This was the industry changing right before us. This was the birth of a new generation of 4K cameras, a further blurring of the lines between broadcast and cinema and it marked a new way of doing things. And at that price... how could I say no?!
So we promptly ordered one.
The first thing you notice about the URSA is its weight. It's very heavy. It's good heavy though. It's solid and robust. From the pictures splashed across the Internet, you'd be forgiven for thinking it's a bit plasticky-looking. But it really isn't. It's machined metal from start to finish. And it feels quite grown up. It shouts 'authority' at you. When you compare it to the other Blackmagic Design cameras, it's very different. It's definitely the Grandad of the range.
You wouldn't immediately think of the URSA as being a traditional multi-camera camera, but it's certainly capable. I'd expect to see a lot of multi-camera music production with the URSA.
So what should you consider when buying this camera? The camera records to CFast cards which are currently very expensive. If you're planning in recording in 4K, you'll need CFast 2.0 cards. If you're only planning on recording in HD (and up to 30fps), you'll get away with CFast 1.0 cards – which are thankfully a bit cheaper.
If your budget only stretches to the camera body itself and you forget about the recording media, you might have just bought yourself a very expensive door stop. Unless you're planning on using an external recorder.
If you do end up in the door step situation, take solace in the fact that the door won't budge an inch! Another thing to note is that it comes without a battery plate on the back, so remember to order one of those. Blackmagic do now sell these as an accessory.
The URSA offers all the features of an ENG style camera with the picture quality you'd expect from a true cinema camera. The pictures are truly stunning and it's a really useable camera. We first used the camera in anger on a promotional video for a charity. The content and audience both warranted a high end look and feel, so the URSA was a perfect choice of camera for the job. You find with a lot of the low cost cameras out there – including even the more budget cameras that Blackmagic Design offer – that you're constantly having to find workarounds to solve design flaws and make the camera more useable. The URSA delivers in almost every area. And based on the results of the few projects we've already used it on, we've been very impressed. And for that price...
The article is also available to read in
BFV online
.
(IT/JP)
Top Related Stories
Click here for the latest broadcast news stories.