Broadcast News
13/11/2014
Dejero Upgrades LIVE+ Mobile App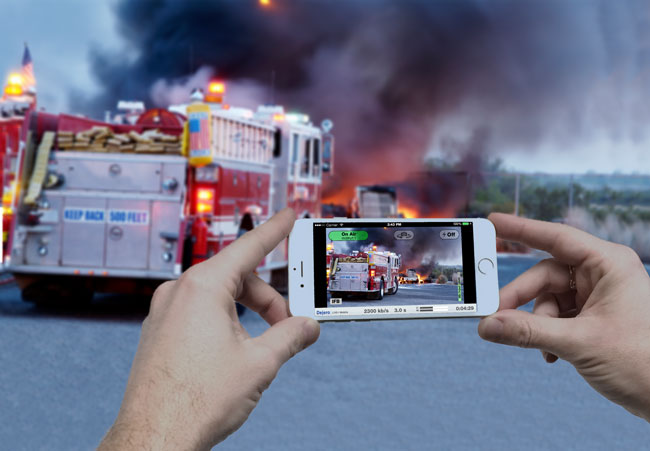 Dejero has released version 3.0 of its LIVE+ Mobile App for iOS. Aimed at mobile journalists and video contributors, the LIVE+ Mobile App for iOS transforms an Apple iPhone or iPad into a newsgathering or live event tool.
The upgrade features greater versatility and low-bandwidth connectivity, such as enhanced latency management, Wi-Fi links to Internet satellite systems, and the ability to assign live feeds and uploaded files to different server destinations.
The app can transmit live or recorded video using the built-in front and rear cameras on the phone or tablet, enabling reporters to set up and shoot a breaking news story without the need for a conventional transmission truck or camera operator.
"Today's news organisations are looking for every competitive advantage they can find, and that means making sure they're first to air with live and breaking news whenever and wherever it happens," said Brian Cram, CEO of Dejero. "Since our LIVE+ Mobile App is so easy to use, anyone with an iPhone or iPad can become a MoJo and contribute video when they encounter a breaking story. Broadcasters can greatly expand their newsgathering capabilities by simply outfitting everyone in the organization with the app."
Using Dejero's patent-pending Intelligent Connection Management technology, the LIVE+ Mobile App transmits low-latency video over bonded cellular and Wi-Fi connections, even when bandwidth is limited. The LIVE+ Mobile App now enables devices to connect via Wi-Fi to satellite Internet transmission systems such as BGAN terminals for connectivity from especially remote locations. The up-to latency mode enables the user to set a latency threshold for the shortest-possible delay based on network conditions, and the app now enables lower transport resolutions to accommodate low-bandwidth connections.
The LIVE+ Mobile App is integrated with the LIVE+ Portal, which enables ingest control to preview and route feeds from multiple field-deployed LIVE+ transmission devices to any available LIVE+ Broadcast Server or LIVE+ Cloud server, for delivery to air or streaming to a website. With the cloud-based LIVE+ Portal, operators can also geolocate and monitor devices, as well as view performance analytics.
Version 3.0 of the LIVE+ Mobile App is available from the Apple App Store. A license is required to send live feeds and recorded or edited files to server destinations.
www.dejero.com
(IT/JP)
Top Related Stories
Click here for the latest broadcast news stories.