Broadcast News
31/05/2016
Dejero to Demonstrate Live Video Transport from Anywhere At BroadcastAsia2016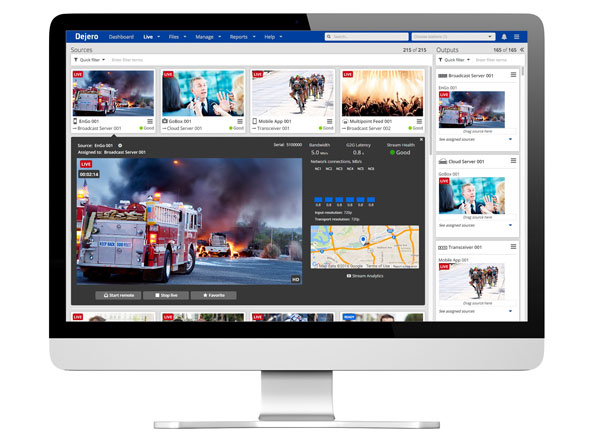 Dejero has announced plans to demonstrate is innovations in cloud-managed solutions to simplify the transport of live video and real-time data across remote or mobile IP networks at BroadcastAsia this year.
Used by news and sports broadcasters, but valuable for anyone who needs live video from wherever the action is happening, Dejero's LIVE+ platform simplifies the transport of live IP video from remote or mobile locations.
Dejero's unique approach bonds all available networks including cellular, Wi-Fi, Ethernet, and BGAN of Ka-band satellite, to deliver high-quality, low-latency video.
Dejero technology is already widely used in South East Asia. Fintan McKiernan, CEO of Ideal Systems SEA, said: "We are seeing rapidly increasing demand for both purchase and rental of Dejero equipment, driven by the amount of live news and sport in the region.
"The combination of reliability, ease of use, and portability of Dejero's technology is great for small production teams and camera crews.
"With our large inventory of Dejero equipment in our Ideal-Live rental operation, we are seeing not just broadcast television applications but also seminars and corporations looking to broadcast to the web and social video networks something that Dejero does exceedingly well."
At BroadcastAsia, Dejero is demonstrating its latest technology, including enhancements to its LIVE+ Core software, which is at the heart of its cloud-based transport and management solution. It features improved algorithms to respond and adapt to changes in throughput across different IP networks, providing more stable and reliable transmission.
Mobile and rack-mounted transmitters will also be showcased, including LIVE+ EnGo, its compact camera-mounted or wearable transmitter that features a swappable SIM module–making it ideal for international use.
Dejero will also be demonstrating a series of new enhancements to its LIVE+ Control management system. LIVE+ Control is a powerful cloud-based operational tool that allows broadcasters to centrally and remotely manage their contribution assets from a web browser.
The latest update adds to the management, monitoring, and routing capabilities, providing users with even greater insights into the usage and performance of their field transmitters. Also featured is the integration of LIVE+ Control into Grass Valley's GV STRATUS video production and content management system, which allows users to move recorded clips from a LIVE+ Broadcast Server to the STRATUS Express server.
"We are working hard to simplify the transport of mobile IP video across challenging IP networks and the overall broadcast workflow," Brian Cram, CEO of Dejero, added.
"At Broadcast Asia, we are excited to join with our partner Ideal Systems to demonstrate how our latest innovations and collaborations help broadcasters do their jobs better, faster, and more cost-effectively—without compromising quality and immediacy."
dejero.com
Top Related Stories
Click here for the latest broadcast news stories.