Broadcast News
25/11/2014
Hague Levitator Now Available To Buy From Camera Grip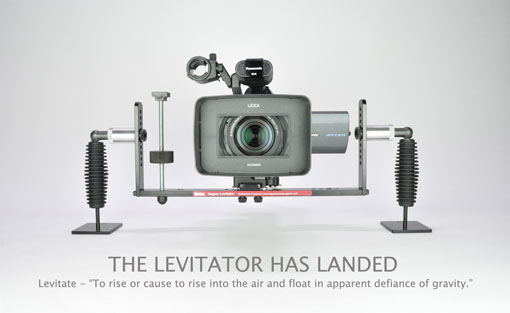 The Hague Levitator is now available to purchase from Camera Grip.
The Levitator is a camera support system similar to a Camframe or Fig Rig, but which has the stabilizing effect of a Steadicam. Like the Camframe the support is held by both hands, but the Levitator's handles are free moving and the camera is self-balancing. It's this combination that gives the camera a levitating effect as if it is floating through the air.
The Levitator uses the camera's own weight for counterbalance, so there is no need for counterbalance weights as used on most 'Steadicam type' stabilizers. This reduces the weight of the support and the twin handle design makes it easier to hold for long periods. Once the camera is balanced, the Levitator gives the camera a truly floating effect with easy directional and tilt control with the two handles.
As there is very little restriction above or below the camera, the Levitator can simply skim over or under items creating shots unattainable from other devices. The sealed radial bearings in the pivot cups and the ball socket handles reduce hand movement as you move around.
Also included is a Balance Correction Adapter, this is only required when heavy lenses are mounted to the camera making it very front heavy, or accessories are mounted to the camera that may affect the cameras centre of balance.  
www.cameragrip.com
(CD)
Top Related Stories
Click here for the latest broadcast news stories.