Broadcast News
30/06/2016
MediaWorks Deploys NETIA Media Assist Software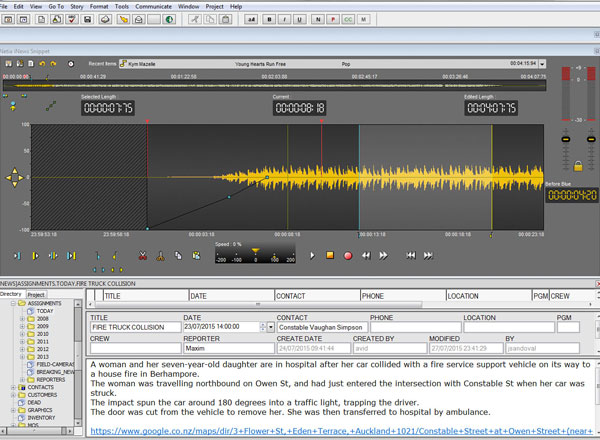 New Zealand's largest independent broadcaster, MediaWorks, has announced it has deployed NETIA and long-time NETIA distributor Syncrotech Systems to provide consolidated news assets on both radio and television platforms.
MediaWorks is deploying the NETIA Media Assist software package throughout its radio departments. The solution will help MediaWorks streamline workflow, optimize management of its media assets across multiple sites, and improve productivity in bringing compelling content to air and to digital platforms.
Though MediaWorks has spent the past two years considering the move of its TV and radio assets into a single ecosystem, the company needed only days after seeing the Media Assist suite at the BroadcastAsia2015 show to decide to bring NETIA experts and software to company headquarters for a proof-of-concept demonstration. Just three weeks later, NETIA held on-site workshop sessions at the Auckland facility and demonstrated the integration of NETIA Media Assist with Avid iNEWS.
Alexandre Martinez, pre-sales engineer at NETIA, said: "Media Assist will help Newshub and other MediaWorks news operations units to streamline their workflow and take full advantage of news assets across their broadcast operations.
"Using NETIA software in conjunction with iNEWS, MediaWorks will be able to reduce its reliance on manual operations, boost content transfer between its radio and TV departments, and ultimately realize an optimal return on its assets."
NETIA's radio automation modules cover the digital audio workflow, supporting production and playout of radio news programming. The modular structure of NETIA software makes it easy to integrate into existing operations and facilitates ingest, editing, scheduling, broadcast, multicast, archiving, data security, and administration via a single user interface.
The new solution at MediaWorks will allow journalists from central and regional sites in New Zealand to connect to servers within MediaWorks' Auckland headquarters. Media ingested and edited locally by journalists at regional sites will be pushed to the NETIA server in Auckland. 
MOS integration of NETIA and iNEWS will enable radio journalists to work on NETIA audio assets from within the iNEWS client workstation. Media Assist tools, including a browser, player, and NETIA's Snippet editing tool, are accessible from within the iNEWS workstation session as ActiveX plug-ins. Any rundowns with audio assets created in iNEWS can be used to create audio playlists on Media Assist, which will manage playout. 
netia.com
(MH)
Top Related Stories
Click here for the latest broadcast news stories.