Broadcast News
20/10/2014
Playbox Heads To AfriCast Exhibition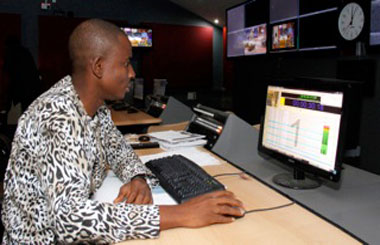 PlayBox Technology will be demonstrating the latest additions to its range of broadcast playout and branding solutions at the biennial AfriCast exhibition in the Nigerian capital, Abuja, from Tuesday October 21st through to Thursday 23rd October.
The firm will be exhibiting together with C2S Nigeria, PlayBox Technology will be represented by Ben Gunkel (UK Sales Director) and Ananth Sam (Technical Director).
"AfriCast is by far the most important show for broadcasters in sub-Saharan Africa," Ben Gunkel commented. "It gives us the opportunity to meet with many of our existing customers in the region and has certainly proved effective in generating new business. This is a fast growing market. African broadcasters have long appreciated the IT-based approach which PlayBox Technology pioneered and continues to develop. Working in partnership with C2S Nigeria, we are able to deliver a modern, interconnected and highly automated platform plus a very high standard of customer support.
"We will be demonstrating a complete working system centred on our AirBox automated playout system, TitleBox graphics manager and CaptureBox PRO multichannel ingest server.
"AirBox provides automated content playout for satellite channels, cable head-ends, over-the-air broadcasters and corporate TV users. It can be programmed locally or remotely to operate unattended 24/7. The enhanced AirBox incorporates a GPU-enhanced graphics mixer which allows video rotation effects and depth-order laying effects to be performed in real time. Logo animation facilities are also added with a multiplicity of applications in titling, captioning or channel branding. The audio capabilities of AirBox are also expanded with support now provided for AJA Corvid video cards, Dolby E and Dolby Digital Plus.
"CaptureBox PRO allows multiple channels of high-definition or standard-definition content to be captured from SDI digital feeds, analogue sources and MPEG transport streams. Four video sources can be monitored on a single screen and controlled via a new streamlined user interface. The CaptureBox PRO feature set also includes capture-list import from third-party traffic systems, a GPU-accelerated encoding engine, plus expanded metadata handling and creation during the ingest process. Loudness metering with true-peak measurement allows audio level monitoring and adjustment at any time.
"ScheduleBox will make its first ever AfriCast appearance. Available as software for an existing PlayBox Technology system or as an independent server, it allows template-based management of single, or multiple television channels. ScheduleBox is easy to deploy via its web-based user interface. Operators can select daily, weekly or monthly views and perform programme block management per television channel. Gaps or overlaps are easily identified in the programme blocks. Block status such as Draft, New and Ready-for-publishing can be monitored and controlled. Enhancements include nested blocks for easy ad placement and management; validation rules for checking against pre-defined media usage rules; customised playlist item properties; customised schedule view; automated gap-filling based on block category and improved schedule/template view."
www.playbox.tv
(CD)
Top Related Stories
Click here for the latest broadcast news stories.