Broadcast News
14/10/2014
Remote Control And 4K Cameras - Bradley Engineering's IBC2014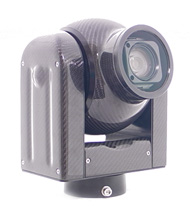 Bradley Engineering's stand was one of the busiest at IBC with visitors arriving to test-drive the remote-controlled cameras and queueing with questions for David Bradley and the company's co-exhibitors BlackCam, Versatile and AltaSens.
The highlights of the new developments were the ELKAM, a brand new mini High Definition camera suitable for goalposts and nest boxes, the RD12 camera-back receiver, and a totally new project – a prototype remote controlled camera for 4K video, which Bradley is developing with AltaSens. The aim of the demonstration was to show visitors what it would be like to work with a 4K camera.
Judging by the crowds around the stand, this was exactly what everyone wanted to see this year. It attracted the attention of neighbouring exhibitors as well exhibition visitors.
AltaSens joined the Bradley party as co-exhibitor for the first time this year, and is working jointly with Bradley Engineering to create a design for the next generation of 4K remote sensing cameras. The design is based on Bradley's dome-shaped Camball camera head and AltaSens's Super-35 4K CMOS image sensor technology, which gives standard 4K cinema frames in 12 bit or 10 bit resolution at up to 72 frames per second.
The design uses the AltaSens AL41410C sensor that was announced earlier this year, which delivers industry standard 4K cinema frames in 12 bit or 10 bit resolution at up to 72 frames per second. It's a Super-35 size image sensor with 5.2 µm pitch pixels. Bradley and AltaSens showed the prototype camera with the cover removed so that visitors could see the the electronics inside.
Bradley's Camball is a Pan Tilt Zoom camera with 99 pre-set positions that can be memorised and recalled. It has a lightweight, weather proof carbon fibre housing and all of the camera functions and movements can be controlled remotely, including the Pan, Tilt, Zoom, Iris, Focus and the activation of infrared mode and the colour balancing elements. All this is done using Bradley's remote control panel RCP3.
Exhibition visitors could see the miniaturised 4K camera module integrated in the remote-controlled Camball head along with the 4K sensor at the module's visual cortex.
The ELKAM is a specialised HD camera in an elbow shape, with a full HD MOS sensor and a 100 degree wide angle lens and full remote control.
It's designed as a goal post camera or similar, where it can be used with Bradley's Remote Control Panel Mk3 to control all four cameras, or it is equally suitable for getting a wide angle view of a nest box, where being remote controlled, it will not disturb nesting birds. The ELKAM uses a 2 megapixel 0.3" HD CMOS sensor and supports HD formats 1080p 50, 59.94, 60 , 1080i 50, 59.94, 60, 720p 50,59.94, 60.
Bradley's RD12, which may be the world's smallest CCU receiver, is capable of controlling all of the parameters on a broadcast camera. At just 100 grams and 88mm x 60mm x 12.5mm, it operates with Sony, Ikegami, Panasonic and Bradley cameras, to give effortless CCU control for Iris, Tally, Red Gain, Blue Gain and Pedestal. Bradley's design makes this simple, it just uses one single cable for power and data. The RD12 and its corresponding transmitter, the RD11, operate in the license free zones and are frequency agile with user selectable channels.
Co-exhibitors Blackcam and Versatile completed the demonstrations with a selection of rails and moving arms to complement the remote controlled cameras.
Blackcam showed their tiny remote controlled camera systems on tracks, which are used to capture dynamic views of the artists for live shows such as The Voice and Rising Star.
Versatile brought their own designs for remote camera heads: jibs, booms and cranes which offer everything you need to support a remote camera head.
David Bradley was formerly a BBC cameraman and has a long history of designing and manufacturing remote cameras. Since the company started the cameras have improved continually, with new developments based on customer requests. Today the company offers a selection of digital mini camera heads with ultra-smooth movement and remote control.
They are designed to be easy to rig and operate the way that camera operators like to work.
Read the article in BFV
online
.
(IT/JP)
Top Related Stories
Click here for the latest broadcast news stories.