Broadcast News
30/04/2013
Camera Corps Extols Remote Cameras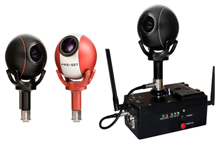 Camera Corps has reported "increasing worldwide recognition of the creative potential" offered by remotely controlled camera systems.
Exhibiting at this year's NAB in Las Vegas, Camera Corps showcased a range of compact robotic cameras, including the latest additions to the Q-Ball family.
Developed for Camera Corps' own coverage of major sports and stage events, Q-Ball is weatherproof, robust and delivers stable and controllable video from any height.
It can also be mounted on a stage set within view of other cameras. The output can be matched with that from very high budget 1920 x 1080 studio cameras.
The new RF Q-Ball captures and transmits high definition video plus four audio channels as a wireless HD-SDI feed up to a mile from the control unit. Full control of pan, tilt, zoom and focus can be performed via an integral reverse wireless channel. The whole package is designed "to allow rapid installation, eliminating the need for intermediate cables," according to Camera Corps.
It can be operated under battery power for up to eight hours.
Camera Corps also demonstrated the compatibility of its Q-Ball product family with the recently-introduced Vinten Radamec CP4 robotic camera controller.
The CP4 can be configured for use with up to four heads and will store up to 40 preset shots. An optional upgrade extends the CP4's control capability to eight heads and 200 pre-set shots.
Camera control is via a three-axis manual joystick plus a focus wheel and zoom rocker switch. Relevant control parameters are accessible via a touchscreen graphic user interface.
Camera Corps' Q-Ball, Q-Ball Pre-Set and RF Q-Ball have integral 10-times zoom optical lens and smooth-accelerating pan/tilt motors.
Housed in a robust 120 millimetre (4.5 inch) diameter aluminium sphere, each camera head has a 2 megapixel CMOS sensor and is capable of operating in daylight or infra-red illumination.
Each camera delivers 1080i/720p high definition or 625/525 standard definition at 50 or 59.94 hertz refresh rates. The entire system is waterproofed for use in all weather. Antennas can optionally be coupled via extension cables.
Up to 96 Q-Ball and/or MiniZoom cameras can be remotely controlled from a single Camera Corps RCP or Joystick panel.
www.cameracorps.co.uk
(IT/CD)
Top Related Stories
Click here for the latest broadcast news stories.