Broadcast News
25/09/2014
AP To Debut APx555 Audio Analyzer At 137th AES Convention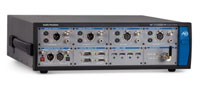 Audio Precision will debut its APx555 Audio Analyzer, the new standard in audio analysis, at the 137th AES Convention in Los Angeles.
Introduced in September, the APx555 is the culmination of 30 years' experience in audio test offers engineers involved in audio R&D and production test the powerful combination of industry-leading performance, modular architecture with a broad range of digital I/O, and flexible, intuitive measurement software.
Additionally, Audio Precision will be demonstrating loudspeaker test and acoustic measurements for R&D and production applications. Demonstrations will utilize the APx515 Audio Analyzer and APx500 software, and will include key measurements and capabilities such as impedance and Thiele-Small, quasi-anechoic reflection gating, rub & buzz, and air leak detection.
Visit Audio Precision, Booth #1212, for more information and audio test demonstrations.
www.ap.com
(CD)
Top Related Stories
Click here for the latest broadcast news stories.