Broadcast News
05/09/2014
Taking It To The Extreme...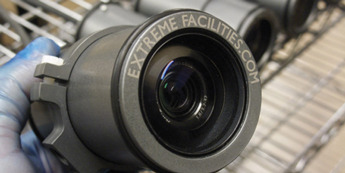 Extreme Facilities describes itself as "the go-to team for problem solving, vehicle and extreme environment filming" and it's easy to see why. The company is now synonymous with pushing equipment to the limit for a variety of different off-road and extreme projects. BFV caught up with Andrew Schaale, the company's founder.
The company provides a lot of equipment and specialised skill for the BBC's Top Gear programme. Is it as chaotic a show to work on as it appears from a viewers' perspective?
Top Gear, contrary to appearances, is highly structured and requires our constant development of technically robust equipment and innovative solutions. Our skilled crews are accustomed to flex and adapt with script developments, as we race to re-rig and sometimes help repair vehicles of all types, in all environments. As a result we have become adept at rising to all challenges.
What are your experiences working with that team?
The teamwork is very intuitive, rapid and rewarding, with each member accomplished in their specific area – be it visual, sound or mechanical. Every individual is at the top of their game, also with an unusual understanding of technical requirements and operating needs of other disciplines. As a result we work efficiently around one another in the fast paced shoots, including rigging and we all co-operate to help any time there is a problem to solve.
Equipment hire is the option of choice for many productions these days. Is it the case that customers can get more for less than, say, twenty years ago?
Definitely – 20 years ago specialist cameras were rare, and far from user friendly.
We started with the Pulnix which became the Sony XC999 then the Hitachi cameras arrived but they all needed separate batteries and recorders we modified camcorders to be recorders by taking the lens assembly off re-housing them incorporating deneke timecode boards and developed our own remote control systems. These were regularly used for the 'Blues and Twos' ITV network series and also the BBC 999 series where we shot countless drama reconstructions and stunts in mountains, caves and underwater.
Now we have a considerable variety of HD, 2K , 4K minicams, compact DSLRs, Mirrorless cameras and the ubiquitous GoPros. Now, we also have good HD board cameras with full racking controls; we 3D print housings for these to suit the clients project.
Grip is an ongoing challenge; getting clean non vibrating images from new positions we would not previously have risked fitting a camera increases the difficulty. We work regularly for the F1 teams directly and for BBC F1 and SKY F1 and have developed a system of vibration damping mounts to enable cameras to be placed virtually anywhere on an F1 car.
We use a similar system for stunt aircraft and yesterday used the system to shoot exterior stunt flying shots for a feature film.
Is more widely-available technology a curse or a blessing for the re-sell and hire market?
Re-selling your equipment is more straightforward than ever but the returns are far fewer. This is a factor hirers need to take into account and ensure they can amortize the costs of the investment over the working life without relying on a reasonable re-sell value – as this is very unlikely.
New technology is being delivered at an ever-increasing pace and will only accelerate. New technology like the Freefly MOVI M10 was sold at a premium due to it being a game changer and totally disruptive to Steadycam's dominance. Now the DJI Ronin, virtually identical technology is selling for 25% of the Movi M10 price, so DJI another Drone maker is doing to Freefly what Freefly did to Steadycam. Having said that, we find the M10 has more finesse but we hire both and the MOVI M5 thus hedging our bets, especially as we use these for both hand help and our Drone operations.
What are some of the biggest products currently in your portfolio?
We find the most useful equipment in our hire portfolio is kit we have designed or assembled ourselves. One system we supply is our in/on vehicle camera system which has three cameras and recorders, lighting with incorporated, 10 channel sound mixer/recorder radio mics, hard wired mics, timecode, quad split digital TX with 1.5km range. This unit can record for 14 hours on one set of batteries and also has heating and filtered positive pressure cooling for desert environments.
Drones / UAVs are a growing area; we now have nine units and have full HD transmission. Onboard, everything is doubled so we have 100% redundancy for safety. The applications for the equipment are diverse – from James May's 'Cars of the People' and his new 'Toy Stories', shows and specials for Top Gear to titles for the Commonwealth Games, commercials and feature films.
Have you any big releases or announcements coming up?
Extreme TG Arm, is a fully stabilised Vehicle Tracking Crane Arm similar to a 'Russian Arm' but the USP being it can pack and travel in flight cases anywhere in the world as check-in luggage. This unit works with DSLRs and cameras up-to C500, Red Epic size. Tested on and off-road, the stabilization is brilliantly smooth and without road vibration.
All you need to do is land in Timbuktu, hire a vehicle and attach the rig! (Once your team has completed safety training). It comes with a three-axis gyro/inertia stabilised head and FIZ control system. Arm lengths are 1.5m, 3m and 4.5m, powered by the standard car battery of your vehicle or a set of V-Lock batteries. We plan to use the rigs for Top Gear overseas in October and November for some very challenging adventures along with multiple long range and high-speed drones and wirecams.
The 360º / Spherical multi camera rigs are a new favorite and no doubt will continue, these are particularly tricky to rig so we have developed a range of new grip equipment to enable successful shooting inside and outside vehicles using race cars to achieve the bizarre but cool 'Little Planet' effect and also live panning when the material is used for online content.
Finally, what are Extreme's plans for the rest of the year?
Currently, we are in the thick of F1 shooting for the BBC and SKY F1, Top Gear, and the Classic Car Show.
We have some large and quite long overseas shoots planned and have modified kit to deal with desert challenges and artic conditions for projects we will complete before Christmas.
Perhaps one of the most unusual current projects is engineering multiple bird mounted cameras to film simultaneously for bird to bird coverage.
One constant is that we never know what challenges will be delivered with the next phone call. These are very exciting times with the plethora of new technology enabling us to push creativity at every opportunity.
The article is also available to read via BFV
online
.
(IT/JP)
Top Related Stories
Click here for the latest broadcast news stories.