Broadcast News
22/08/2014
Final Call For Next Generation Of Super Producers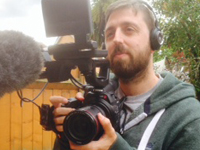 A TV producer, who works for independent Welsh broadcast production company Rondo media, has urged other senior producers to sign up to a pioneering training programme, which helped him develop a brand new documentary series for Channel 4.
Following the popularity of the first series of the Channel 4 documentary My Tattoo Addiction, Paul Symonds, wanted to further sharpen his skills after being commissioned to produce a new spin off series in 2012. 

In his quest to get the best out of the series, Paul signed up to the Creative Skillset Wales Producer Plus course, run by DV Talent, which gave him the opportunity to work with some of the most influential people in the industry and support the production of the new series. Paul explains why he took up a place on the course and encourages other industry professionals to do the same.
"We produced My Tattoo Addiction for Channel 4's Cutting Edge programme and it attracted an audience of over two million," says Paul. "That was a one off, but off the back of that success we were commissioned to produce the follow-on series, which transmitted last year.
"Part of the reason I decided to go on the Producer Plus course is that I knew we had this series brewing in the background and the course content would really benefit the making of the series, as well as other commissions going forward. I also thought it was a great opportunity to hear from top industry figures from different genres and shows, as well as learn new things from different people – which I really did.
"Courses like this make Wales much more outward and forward facing in terms of developing the next crop of talent for the TV industry, and I would highly recommend any aspiring producer to sign up and attend the 2014 course."
The second Creative Skillset Wales Producer Plus course, which is again being delivered by DV Talent, will run over several months from September 2014 – April 2015 (part-time) and involves practical training, workshops, masterclasses and one-to-one mentoring. It will be taught by some of the most influential programme-makers and executives of recent years, including Robert Thirkell, Linda Clifford, Vicky Hamburger and Patrick Uden.
"It's designed to give crucial creative, editorial and managerial skills needed to produce network series with confidence" says Gwawr Thomas, director of Creative Skillset Cymru, "and we're delighted to be able to support people in industry with high quality training courses such as this."
The course runs for 11 days over an eight month period (including weekends) and costs £895, with grants of up to 80% for eligible freelancers available from Creative Skillset Wales.
The deadline for applications is 12 noon on Monday 1 September, 2014.
The Producer Plus courses in 2012 and 2014 have been made possible through Creative Skillset Wales' £4.38m Skills for the Digital Economy programme, which aims to develop and deliver flexible, industry-led training to meet the needs of Creative Media employers and freelancers working or living in west Wales, the Valleys, and north west Wales. 

The project is backed with £2.7m from the European Social Fund (ESF) through the Welsh Government, with the rest of the funds provided by Welsh broadcaster, S4C, the trade association of independent producers in film and television in Wales, Teledwyr Annibynnol Cymru (TAC) and Creative Skillset Cymru.
For more information, to check eligibility and reserve one of the final places on the course visit
creativeskillset.org
or call 02920 452 828.
(MH/JP)
Top Related Stories
Click here for the latest broadcast news stories.