Broadcast News
12/06/2014
TCB Media Reports Scandinavian Sales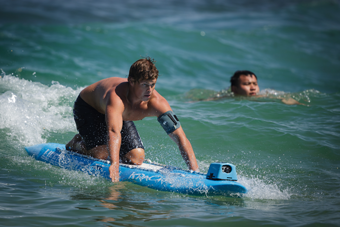 TCB Media Rights has reported a string of sales to broadcasters across the Nordic territories, with five of Scandinavia's key broadcasters — SVT Sweden, NRK Norway, TV4 Sweden, TV2 Denmark, and Viasat — acquiring titles from across the London-based distributor's factual and factual-entertainment catalogues.
Around 10 TCB titles are headed for Scandinavia via deals brokered by Karen Connell, who joined TCB founder Paul Heaney in February as Head of Sales for the Nordic region, Benelux and Central and Eastern Europe.
Swedish public broadcaster SVT has licensed two one-hour specials — Arrow Media's The Passenger Who Landed A Plane and Furneaux Edgar/GME's Treblinka: Hitler's Killing Machine.
NRK3 Norway has taken the ninth and latest season of Bondi Rescue (15 x 30 mins), the rights to which TCB acquired in the run-up to MIPTV. NRK3 has also renewed the first seven series (85 x 30 mins) of the hit Cordell Jigsaw Zapruder (CJZ) series, which follows the work of the lifeguards who patrol Australia's busiest beaches.
Season nine of Bondi Rescue is also headed to TV4 Sweden in a volume deal that also includes the renewal of seasons one to five of Bondi Rescue (68 x 30 mins), Bondi Rescue: Bali (9 x 30 mins), Nine Lives/GME's Age Gap Love (1 x 60 mins), Seven Productions' Surveillance (18 x 30 mins), Arrow's World's Most Extreme (6 x 60 mins) and CJZ's Tales of the Unexpected.
World's Most Extreme has also found a new home on TV2 Denmark, while Viasat has acquired WAGtv's Heavy Metal Monsters (6 x 30 mins) for its pay-TV platforms in Scandinavia and CEE, and its free-TV service in Sweden.
"This latest round of deals is a reflection of TCB Media Rights' increasingly strong reputation in Scandinavia and points to the quality of the distributor's burgeoning catalogue of factual programming and formats," a statement from the company said.
Ms Connell said: "These deals cover the client base, from public broadcasters to pay-TV players, all of whom have different demands in terms of factual content, from serious documentary to the lighter, brighter end of spectrum. The fact that all have found TCB programming to suit their schedules is a real tribute to calibre and diversity of our catalogue."
Louise Eberhardt, Programme Acquisitions Executive at TV4 added: "We are very happy to be closing yet another deal with TCB, which includes some exciting new titles as well as our long-term brand Bondi Rescue."
www.tcbmediarights.com
(IT/JP)
Top Related Stories
Click here for the latest broadcast news stories.