Broadcast News
05/06/2014
Rotolight's ANOVA Floodlight, 'In The Flesh'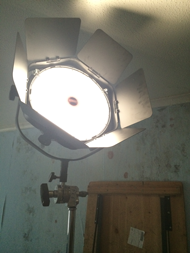 Director of Photography Dale McCready has been working with the Rotolight ANOVA V2 on the set of the BBC's Zombie Drama 'In the Flesh'. Winner of the BAFTA TV Craft award for best Drama, BBC's 'In the Flesh' series 2 recently premiered on BBC Three.
New Zealand-born DoP and Steadicam operator Dale McCready has worked on some of Britain's most highly rated series such as Atlantis, Dr. Who and Merlin, including the feature film 'The Chronicles of Narnia: The Lion, the Witch and the Wardrobe'.
McCready offers a brief insight on his use of the new Version 2 Rotolight ANOVA Floodlight on set of the award winning production: "I often shoot with the Bi-colour Litepanel 1' LED units on Atlantis and used them often on the forthcoming feature Blackwood. But, although Litepanel's Bi-colour lamp is useful, it suffers from a few problems.
"Being an early LED cine lamp it runs a bit green with a lack of true colour across the captured spectrum. It is also difficult to know you're getting exactly the colour light you want as the dials have no graphical feedback. You turn it until it looks the right colour to your eye (or meter) and off you go, fingers slightly crossed.
"At IBC I came across the Rotolight booth and thought that their Anova lamp, a nice, punchy, lightweight, round LED panel with unique flower like barn-doors, could work nicely for me. It dims, is adjustable in colour temperature with a digital readout and also contains a WiFi chip to create its own network, which you can access through the Rotolight Magic Eye app. (downloadable from the Apple app store).
"It can become a master DMX lamp to allow wireless control of multiple lamps plugged in via DMX. Need a lighting desk program but don't want a desk? Use your iPad instead!
"On 'In The Flesh', the Anova fit in beautifully for nearly every interior setup I've done. I'm using it directly as a nicely rounded soft spotlight, bouncing it off poly, diffusing it with Depron, gels, a Chimera Softbox (new Rotolight accessory), hanging it from stands and also often just bouncing it off the ceiling for fill. It's not 'that tricky LED lamp for last minute eye-lights but not the ladies' faces'; instead, it's the go-to lamp for nearly every setup.
"The lamp's colour is good enough there's no need to think about it as a separate tool. It's just another lamp in the truck. It fits in with the 650s, it fits in with the HMIs, it fits in with the Kinos. I measured on my Sekonic colour meter early on and found it to be very neutral in terms of green/magenta cast. It's quick to adjust, and if I can't reach the control on the back, then the iPhone app can be used to tweak it from by the camera."
Featuring totally flicker free 'best in class' LED technology with an overall CRI=95 and skintone=98, the ANOVA range is now available in six new flavours; Bi-Colour, Solo 5600K and Solo 3200K, with a choice of Beam angle 110º 'ULTRAWIDE' for beautiful soft lighting or 50º 'STANDARD' for greater straight-line output.
Each Anova unit includes V-Lock battery mount as standard and DMX or Wireless control via the Rotolight Magic Eye iPhone / iPad app.
"I did a setup today where I wanted very fine control of the level for convincing night fill and could tweak it remotely while operating. Or, the gaffer could use the near instantaneous On/Off switch on the iPhone app to time the lamp coming on with an actor hitting a wall switch. I never spotted a delay once.
"I go back to shooting Atlantis and the Anova is going to be very handy indeed. I'm hoping to have at least two on standby on all interiors. I'm hoping my one can be kept nice and tidy, but that's unlikely. It's too useful to keep it in its box."
The article is also available in BFV
online
.
(IT/JP)
Top Related Stories
Click here for the latest broadcast news stories.