Broadcast News
28/05/2014
Broadpeak To Showcase CDN Lineup At CommunicAsia2014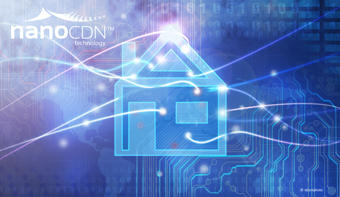 At CommunicAsia2014, Broadpeak has announced it will showcase its lineup of content delivery network (CDN) and video server technologies that address the ability to deliver video over cable, IPTV, OTT and mobile networks.
Broadpeak will showcase how mobile operators can maximise the QoE of their video services by extending their CDN to the base station. This is done by deploying nanoCDN™ technology onto a mobile edge computing platform, similar to the Nokia Radio Applications Cloud Server (RACS) that is a part of Nokia's Liquid Applications.
At CommunicAsia2014, Broadpeak will also demonstrate enhancements to its nanoCDN™ technology.
The first application of nanoCDN eliminates live multiscreen consumption peak issues by turning millions of broadband gateways or STBs into active components of an operator's content delivery infrastructure. Leveraging home networks, operators can manage the consumption peaks of live multiscreen services for millions of simultaneous viewers using only a few megabits per second from their network. This is done by implementing multicast support for Microsoft® Smooth Streaming and Apple® HLS formats.
The technology supports the reuse of IPTV multicast streams, which can be adapted in the home gateway to address HLS devices. No transcoding is required and the processing resources used in the home gateway are minimal, allowing operators to launch new services at a reduced cost.
Broadpeak's nanoCDN also offers a new transparent caching application that allows operators to handle a growing volume of unmanaged video content on their backbones. The new application reduces peering costs for ISPs while optimising an operator's network resources and improving the QoE for end users. The application paves the way for new business models, enabling operators to monetise the caching capability with content owners, without the latter needing to modify their setup.
Broadpeak has developed a new application for its nanoCDN technology that optimises streaming capacity and users' QoE when watching VOD. Through the nanoCDN VOD Pre-Caching application, network service providers can take advantage of their multicast resource during off-peak times to pre-cache content in the users' home network.
At CommunicAsia2014, Broadpeak will also display its range of CDN equipment and streaming servers, including its unified video server capable of streaming both RTSP and ABR formats from a single appliance.
Broadpeak's streaming servers are capable of streaming media in any format, including the new MPEG-DASH standard, and can reach a 40Gbps streaming capacity. Utilising the company's streaming servers and CDN management suite, operators can offer nonlinear TV services such as cloud PVR, start-over, network time-shifting, and impulsive recording.
Broadpeak will also highlight new features for umbrellaCDN™, a CDN selection product that allows content providers and operators to deliver live and VOD content with the best possible QoE. New features include the ability to offload traffic from an operator's network to a CDN as a service, and the display of quality of service (QoS) information coming from the players. umbrellaCDN also includes detailed analytics and real-time audience data.
With umbrellaCDN, the ideal CDN for each end user request is selected according to operator-defined, rules-based parameters, such as end user location, end user ISP, group of content, time of day, QoS, type of network, and more. This enables content providers and operators to balance traffic dynamically among multiple CDNs to ensure a superior QoE for end users.
www.broadpeak.tv
(IT)
Top Related Stories
Click here for the latest broadcast news stories.