Broadcast News
29/04/2014
NAB Reflections, By WTS' Duncan Payne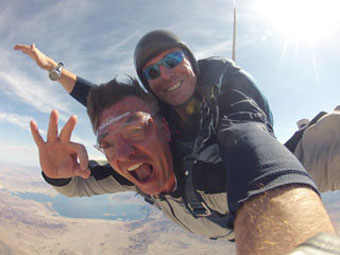 With the rigours, revelations and revelry of this year's NAB still fresh in the mind, WTS Sales Manager Duncan Payne reflects on the array of innovations and surprises showcased in Las Vegas.
Sitting at 30,000 feet returning home from Las Vegas, surrounded by many friendly, if a little weary, faces it seemed NAB had taken its toll on the great and the good of the UK broadcast industry yet again. This time around, it was a party venue with 2 'k's, and cameras with 4K that were high on the agenda, the new Hakkasan club proving a hit for the customary post-show revelries, while new 4K cameras cropped up in various configurations from some unlikely manufacturers.
Hats off to
AJA
for the surprise announcement of the show. Gasps were audible and whoops inevitable in the early morning dealer meeting as they debuted their new
Cion PL mount 4K camera
. A packed stand for the entirety of the show confirmed that they had got something very definitely right. The build quality of the Cion seemed solid, the form factor familiar – and it had the connectivity that you'd hope for in a 4K creative camera. With a release date given in the vaguest terms as "summer" it seems that AJA may have learnt lessons from other non-traditional manufacturers who have overpromised on delivery timescales.
AJA does have an enviable reputation for making kit that reliably does what it claims it can do, so the roll-out of the camera will be worth keeping an eye on. They were already showing some clever applications with their Corvid Ultra processing unit. By lining two 4K cameras up side by side the Corvid Ultra would allow an HD image to be taken from anywhere in the area covered by both cameras, including crossing over between cameras. This functionality is particularly popular in sports coverage for player tracking and off-the-ball incidents, and a relatively low cost point makes this Cion immediately viable.
Panasonic
, meanwhile, are aiming their new
4K VariCam
squarely at the Arri Alexa market, and their new ideas around camera form factor are strikingly clever. They have effectively launched two front ends – a 4K PL-mount version and a 3 x 2/3" CMOS HD sensors version – both of which dock on to the same recording back end.
This is a neat solution for camera hire companies, freelancers and production companies who find themselves being asked to produce high-end content for traditional TV one day, and 'shallow depth of field' content the next. And recording to AVC Ultra mini P2 cards seems like a well thought-out workflow. With Arri still resisting the move to 4K, there will be an intriguing subplot as to how the VariCam fares.
The reluctance of film-makers to opt for digital cinema technology rather than film has largely been overcome, in no small part by the Alexa itself, so it will be exciting to see how the Panasonic and the AJA will be adopted. Add into that mix the new Blackmagic 4K offering, the URSA, with its focus on upgradability and building everything into the camera, even down to a 10" monitor – though reading other blogs subsequently, there does seem to be some concern over the physical size of the unit.
JVC
previewed four 4K cameras in total – though all are a long way off being finished products – and
For-A
were showing off their 4K high-speed camera, the FT-One, which also looked impressive. Elsewhere, the newly purple
Grass Valley
gave a technology demonstration of a 4K systems camera, which promises to be an interesting alternative to Sony's F55/CA-4000 hybrid solution. They also paraded a new LDX ExtremeSpeed camera channel which can produce 6x speed HD pictures.
However this only gives 1080i and this speed – or you can get 3x speed operation at 1080P. As you'd expect, this integrates well with their K2 Dyno slo-mo replay system.
Sony
seemed a little light on new releases for the broadcast end of the market, though one announcement of note gives an upgrade path for their much-loved
F5 camcorder
. By returning it to Sony for a new front-end block and global shutter change, you can morph it into an F55. However, with no commencement date and no clues on price, there was something of a sense of anti-climax.
They also revealed a new
PDW-850
to replace the popular PDW-700 and PDW-F800 camcorders. I'm all for rationalisation of their extensive product range, but – at an estimated price point between the two current models and with all the features of both camcorders incorporated – the advent of the PDW-850 will surely erode the value of the many PDW-F800s already in the market.
Sony did grab some attention with their unveiling of the new
PXW-X180
camcorder, which boasts a sector-leading 25x zoom lens and is capable of recording full HD XAVC Intra and XAVC Long GOP as well as MPEG 422 50 Mb/s. The camcorder is compatible with SxS PRO+ and SxS-1 memory cards and, with an appropriate card adaptor, XQD, SDXC and SDHC cards can be also used.
Perhaps the most impressive camera on display though was the little Sony A7s stills camera, with its 4K recording capability. On a dark set at the show, the image quality was impressive with little noise. Film-maker, fstopacademy.com founder and longstanding WTS friend Den Lennie test-drove a pre-production model in Japan just before NAB and the results were stunning from such a small, low-budget camera.
(Continued in Part 2)
www.wtsbroadcast.com
(IT)
Top Related Stories
Click here for the latest broadcast news stories.