Broadcast News
13/09/2018
New Marshall 4K, UHD & High-Speed Mini Cameras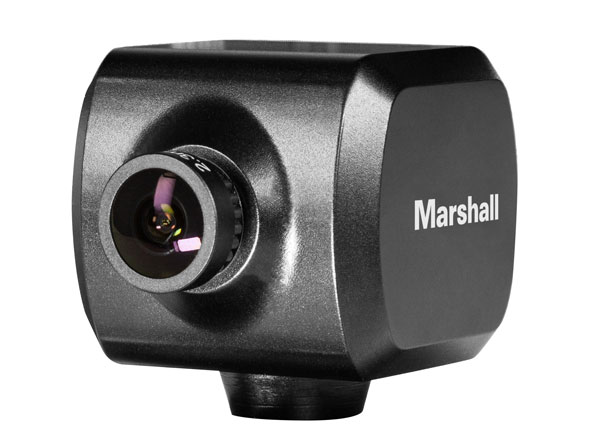 Debuted at IBC 2018, Marshall's all-new CV380-CS, CV420-CS & CV506-H12 mini cameras will be available throughout Europe, distributed by MarCam Europe Ltd.
These new models expand on Marshall's existing range of Pro-Series Cameras, adding features never before seen on broadcast-friendly POV mini cameras of this type.
CV380-CS is Marshall's first mini camera to capture 3840x2160 UHD images. The high-quality 1/2.5-inch sensor records detailed imagery, with signals sent through built-in 6G/3G/HD-SDI and HDMI 1.4 output connectors. In addition to UHD, CV380-CS also captures in 1080p, 1080i & 720p resolutions at varied frame rates up-to 60 frames per second.
"Releasing an affordable, compact UHD camera further expands our camera reach for more broadcast and pro-AV applications," said Tod Musgrave, Director of Cameras at Marshall. "With 6G-SDI and HDMI outputs and flexible CS mount lens options, this new camera provides even more versatility to our users."
Second up, CV420-CS is the world's first professional mini camera capable of DCI 4K 4096x2160 image capture. Incorporating DCI 4K 24p makes CV420-CS ideal for cinematic image acquisition. Video signals are sent from the camera to a recorder or vision mixer using 12G/6G/3G/HD-SDI or HDMI 2.0 connectors.
"Releasing a true 4096 x 2160p camera further expands our reach to cinematic and film production," said Tod Musgrave. "Additionally, we were able to cater to our broadcast customers with the addition of 24fps, which has been requested for some time now."
Lastly, CV506-H12 further develops Marshall's Pro-Series Camera range, capturing images at 120 frames per second in full 1920x1080p. Built specifically for high-speed image capture, CV506-H12 is ideal for sports applications, capturing slow-motion footage from unique and compelling angles.
"Releasing a miniature 120fps camera to 1080p and other resolutions was a natural add-on to our camera line," said Tod Musgrave. "Many of our customers are using our mini HD cameras for slow-motion replay and analysis."
As with all Marshall Pro-Series Mini Cameras, lenses are interchangeable to suit different applications. CV380-CS and CV420-CS both use a CS Mount, whilst CV506-H12 incorporates an M12 Mount. Across both lens mounts, a range of optics are available to suit all angles of view.
Marshall's newly designed housing is used on all three models, improving all-round durability and protection to rear connectors during use.
RS485 (Visca) protocol integration enables users to incorporate any of the cameras within a remote workflow to adjust camera settings.
CV380-CS, CV420-CS & CV506-H12 will be shown at IBC 2018 on stand #12.D20 and will be available from stock in November 2018 – with pricing published on
www.MarCamEurope.com
.
To discover Marshall's complete range of Pro-Series Cameras, visit
www.MarCamEurope.com
.
This article is also available in the September edition of Broadcast Film & Video. Here.
Top Related Stories
Click here for the latest broadcast news stories.