Broadcast News
18/03/2014
AVIWEST To Introduce DMNG RACK180 At NAB 2014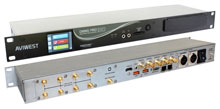 AVIWEST has announced it will launch its new product range, the DMNG RACK Series, at this year's NAB show in Las Vegas.
The DMNG RACK180 is a hybrid contribution video encoder designed to be installed in newsgathering vehicles. Integrated with AVIWEST's SafeStreams® technology, the DMNG RACK180 expands the capabilities of newsgathering vehicles by taking advantage of satellite and cellular networks.
Bonding cellular and satellite connections maximises the overall transmission capacity and ensures transmission resilience. Live high-definition video or recorded files can also be transmitted over bonded cellular networks from a moving vehicle.
Based on the same hardware and software cores as the DMNG PRO180-RA portable transmitter, the DMNG RACK180 has eight 3G/4G modems, one Wi-Fi modem and dual H.264 video encoders, all housed in a 1U rack-mount chassis.
The DMNG RACK180's average power consumption is 30 watts, and its maximum is 42 watts. The DMNG RACK180 has several video inputs (HD/SD-SDI, HDMI 1.3, composite video and analog audio) plus other interfaces including an ASI-MPEG-2 transport stream output, two Gigabit Ethernet outputs, two USB-2 ports, and an SD memory card slot.
Eight SMA connectors located on the rear panel allow the connection of two AVIWEST QUAD wideband cellular antenna arrays. The QUAD antenna arrays can be installed on the roof of any vehicle. They are designed to strengthen signal delivery in critical environments such as live reporting from crowded areas or transmission on the move.
Local configuration and monitoring can be performed via the front-panel touchscreen, with a video preview feature, or via the unit web interface. The DMNG RACK180 can also be controlled remotely from an AVIWEST DMNG Studio receiver or from the AVIWEST network management system, the DMNG Manager.
AVIWEST will introduce the DMNG RACK180 advanced hybrid contribution video encoder on booth SU9113 at the 2014 NAB Show in Las Vegas, April 7-10.
www.aviwest.com
(IT/JP)
Top Related Stories
Click here for the latest broadcast news stories.