Broadcast News
20/08/2013
AVIWEST Unveils IBC2013 Lineup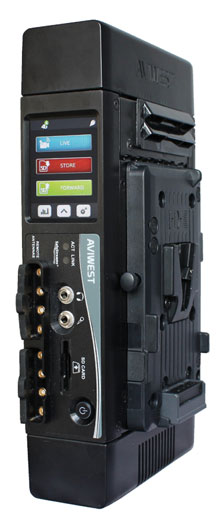 AVIWEST, supplier of pocketsize live video uplink systems, has announced it will be showcasing its upgraded products and solutions range at this year's IBC show.
The company has chosen IBC2013 to launch the DMNG PRO110 and DMNG PRO180-RA transmitters, as well as the QUAD wideband cellular antenna array.
AVIWEST will also release the official version of its DMNG APP at IBC, as well as unveiling its upcoming projects: a new version of its DMNG PRO180-RA designed to be mounted on a 1U rack, as well as its live transmission solution for laptops.
The DMNG PRO110 utilises 10 USB interfaces, allowing the use of several types of modem, or SIM cards, and eases modem swapping. It is also an autonomous device as it includes a battery.
The new DMNG PRO180-RA is AVIWEST's follow-up to its DMNG PRO180; a device for live video and audio streaming over bonded cellular networks. Combining the DMNG PRO180-RA with the QUAD wideband cellular antenna array, which can be mounted on any type of vehicle such as a DSNG truck, car, motorbike or boat, it increases the signal resiliency and enables streaming of live video on the move.
The AVIWEST DMNG App is a mobile application that turns an Android smartphone into a live video camera. In-the-field journalists can now stream live footage via Wi-Fi or 3G/4G, and transfer recorded video files from anywhere in the world to a DMNG Studio server simply using their smartphone.
www.aviwest.com
(IT/JP)
Top Related Stories
Click here for the latest broadcast news stories.