Broadcast News
12/03/2014
EVS Deployed In Qatar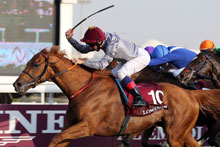 EVS live video production systems were deployed for the recent Emir's International Equestrian Sword Festival, one of the most prestigious horse racing events of the year.
The Qatar Racing & Equestrian Club (REC), located near the capital Doha, features state-of-the-art video production, broadcast and archive workflow built around EVS technology.
The EVS production workflow was at the heart of the outside broadcast unit from Qatari broadcaster Al Kass, which was provided TV coverage.
The event was also the first time EVS' XTRef software was used, a multi-camera review solution specially designed for stewards and race officials.
EVS XT3 video production servers controlled by LSM panels are central to Qatar REC's workflow, used to ingest multiple camera feeds and produce instant replays and highlights.
EVS' IPDirector production asset management suite enables the production team to manage ingest scheduling, live logging, to search and preview recorded content and create playlists between races.
Around 100 hours of raw recordings is generated each week. All content is transferred to an EVS XStore NAS central storage network, ready for access in both high and low resolution by Avid and Adobe editors.
Archivists determine what will be maintained in the long-term storage. The view of each race from multiple camera angles is archived using EVS' IP2Archive tool, which allows operators to store media files on LTO Tapes and restore the files on the central storage at a later date when the material is needed.
Qatari sports broadcaster Al Kass was providing live television coverage from the Emir's Sword meeting held last month. Its outside broadcast vehicles were equipped with EVS XT3 servers and connected to Qatar REC's live production workflow. Images captured from Al Kass' two Imovix hyper-motion 300 frames a second cameras were available to the Qatar REC production team as well as the race stewards.
"The system we've developed together with EVS provides a fast and reliable solution – from the ingest of multiple camera feeds all the way to deep archive," said Jean Bernard Lebon, TV Director at Qatar Racing and Equestrian Club.
"Industry-standard technology, like EVS' servers and XNet media sharing network, and the plug-and-play integration with third-party editing and hierarchical storage management systems creates a really flexible and innovative workflow.
"We can also easily interwork with other production facilities like Al Kass, delivering real productivity and quality benefits for everyone."
The Emir's Sword racing festival took place from 25 to 28 February 2014. EVS' XT3 server and IPDirector suite, and their integration with third-party systems, can be seen at CABSAT this week on stand G6-30, hall 6.
www.evs.com
(IT/JP)
Top Related Stories
Click here for the latest broadcast news stories.