Broadcast News
12/02/2014
Italian Post Selects DAD AX32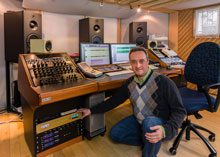 Italian sound recording, post-production and audio-restoration facility Creative Mastering has chosen a DAD AX32 audio converter for use at its studios in Forli, capital city of northern Italy's Romagna region.
"I heard the AX32 at a recent demonstration by NTP Technology's Milan-based distributor TeDeS," said Creative Mastering's founder and manager Stefano Cappelli.
"It is the most transparent analogue-to-digital and digital-to-analogue converter I have ever experienced. The AX32 is exactly what we need for our business which ranges from CDs to top-end DXD and DSD audio publishing media.
"The version we ordered incorporates 16 microphone inputs, 16 analogue line outputs and a Dante IP audio module. We will be using it both for primary recording and post-production.
"Soon after taking delivery, we took part in a comparison of our AX32 and other high-end audio converters at a neighbouring studio, Deposito Zero. This was attended by Giovanni Versari from La Maestà, Thomas Salvador of Deposito Zero and some of their staff. We prepared an Avid ProTools session with my portable rig and then aligned the output of the audio converters, measuring with a DK-Audio analogue instrument.
"It soon become evident in the comparisons that the AX32 was from another planet, much more linear than all others and greatly extended at the low and high ends. It seems that the philosophy of the AX32 is to maintain the source colour and behaviour. I found the AX32 the best in representation of the entire frequency spectrum, width and dynamic range.
"I recently took the AX32 to another studio to help a friend with the acquisition of a mix as his own converter was out of action. He quite literally jumped out of his chair when he heard the AX32 because it revealed elements of his source material which he had never experienced before. This is a great vote of confidence in an excellent product."
www.creativemastering.com
www.digitalaudio.dk
(IT/JP)
Top Related Stories
Click here for the latest broadcast news stories.