Broadcast News
23/01/2014
Rebuilding The Modern Media Facility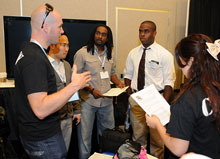 Putting Planning Into Action: Building Or Rebuilding The Modern Media Facility - by Richard Welsh, SMPTE Governor for Europe, the Middle East, Africa and Central and South America, and CEO at Sundog Media Toolkit.
The construction or rebuild of a media facility demands thorough attention not only to the hardware being integrated and installed, but also to factors such as maintenance, support, and future extensibility. Using the example of a mastering facility working with both real-time uncompressed audio/video content and file-based material, the primary considerations are audio/video infrastructure, network infrastructure, storage, processing, and control.
Business growth and format changes place high demands on storage architecture. Within the facility, the storage area network (SAN) architecture selected for high-end and very specific performance parameters may not scale cost-effectively. Compounding this, the relatively rapid obsolescence of information technology (IT) parts makes maintenance increasingly expensive over time. A possible solution is to select a fully modular system without an underlying hardware layer that will reach end-of-life (EOL) in five years.
If a unit fails beyond EOL, then replacing just that unit, rather than whole storage array, avoids a growth curve on support costs to keep the whole system alive. On paper, this approach may compromise on absolute bandwidth, particularly for specific processes. However, by modifying the whole system architecture to allow better distribution of tasks, it could actually improve total throughput significantly. Task fragmentation is far more viable now than ever before.
A facility often will outgrow its existing network architecture, with the emergence of new service areas often being the trigger points for upgrade. To prevent these upgrade costs from occurring more frequently than necessary, it pays to overbuild here. It is sensible to double or more predicted future cabling requirements.
The required network hardware need not be purchased until it is needed, and thus cost is incremental and proportional to increased business. This approach may hurt the initial budget, but it is always more cost-effective than having installers return later to fit more cabling. Although expensive, a high-speed managed firewall for a production network is critical.
Customers' security requirements must be at the front of mind as network requirements are defined, as loss of revenue associated with a failed audit is usually much more than the equipment cost.
In a mastering facility, audio/video architecture is not as up-time critical as in a live 'broadcast-style' facility, but it does need to enable complete flexibility.
A proliferation of economical routing systems offers cost-effective choices that more than adequately provide the performance needed. Notwithstanding this, video/audio systems decisions are increasingly difficult because the industry is moving away from dedicated hardware. At the same time, formats are evolving rapidly. No practical facility-wide architectures account for all of the formats now in the media production and delivery pipeline. SMPTE's latest report on the Ultra HD television ecosystem -
www.smpte.org/uhdtv-report
- highlights a key example of a new format creating huge infrastructure challenges. As a result, it is easy to over-specify a video/audio core, but modular I/O hardware at source and destination can help to minimise the cost impact by only having the physical I/O required and scaling as needed.
For processing hardware, it is commonplace to have a hybrid of real-time audio/video equipment and simple central processing unit (CPU)/graphic processing unit (GPU) horsepower. It is important to understand how scaling this hardware might impact other areas — particularly network and storage for the file-based elements. Upgrades are inevitable, so it is critical to determine upfront what a total system module will cost, including hardware, software, licenses, storage, and maintenance.
How much maintenance can or should be done in-house? In-house support can be a burden when a limited engineering team is stretched not only in bandwidth, but also in knowledge. Systems integrators charge to provide umbrella engineering cover, but they have expertise with their supplied equipment or overall installation that will usually give them significant advantage over internal engineering for support.
External support such as telecoms ought to be rolled into the overall service contracts. An internal engineering team is a must to handle main equipment on a day-to-day basis. A good IT department is also essential for support in the modern media environment. This usually means some staff cross training, but many companies find that a split of bandwidth and costs between departments works well.
Now, with a rapidly maturing market for file-based or real-time video/audio over IP architecture, and with external storage and infrastructure options via cloud services, there are further choices available. Every element of infrastructure is affected by these decisions, and calculations of potential cost benefits must recognise this. As with many things in life, the best course is to understand the situation and find a happy compromise.
SMPTE is bringing its highly acclaimed regional seminar on this topic to London on 11 February and Manchester on 12 February. These seminars will address the use of media on IT networks, including both streaming and file-based workflows, and cover many aspects of the media lifecycle, including acquisition, production, broadcast, contribution and distribution and are valuable for anyone working in systems integration.
Read the article in the online edition of RFV
here
.
(IT/JP)
Top Related Stories
Click here for the latest broadcast news stories.